£100m Government loan to support delivery of up to 3,000 homes
Government's housing agency agrees infrastructure loan for transformative mixed use scheme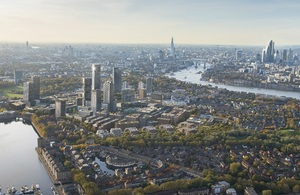 An aerial CGI of the proposed Canada Water scheme
Homes England and British Land have agreed a deal which will see the Government's housing agency provide a £100m loan for infrastructure works to support the development of up to 3,000 homes at British Land's 53 acre, mixed use scheme at Canada Water, Southwark.
Following public consultation involving more than 5,000 people, the Canada Water masterplan sets out a list of commitments to the local area, including affordable homes for local people in a new town centre, a £30m investment from British Land in transport infrastructure, support for the local economy and a sustainability strategy that minimises carbon emissions both now and in the future.
The funding will be made available via a loan from the Government's £4.5bn Home Building Fund, which provides financing for site preparation, infrastructure and development costs. Homes England's funding will enable British Land to accelerate the residential element of their scheme.
Gordon More, Interim Chief Executive, Homes England said: "British Land has a track record of investing for the long-term, creating sustainable places to live and work. Accelerating the delivery of one of the country's most ambitious and transformative projects by three years is a huge achievement at any time, but to be doing it now, just when the country needs growth and new economic opportunities feels incredibly important.
"We're determined to use our resources to galvanise projects across the country and play our part in the country's economic recovery."
Housing Minister Rt Hon Christopher Pincher MP said:
"Building the homes this country needs is a priority for this Government as we build back better from the pandemic.
"We want to deliver more homes and create strong communities where people want to live. Funding for schemes like Canada Water will help accelerate these ambitions."
Roger Madelin, Joint Head of Canada Water, British Land, said: "We are pleased to be working with Homes England at Canada Water. Housing is central to our plan to deliver a new and vibrant town centre for London, where people can live and work and local communities can come together. Their support enables us to progress more quickly and is a testament to the quality of space we will deliver."
Information about the Canada Water masterplan can be found here
Share: