PHE publishes latest data on nation's diet
Public Health England has today published new data detailing the state of the nation's diet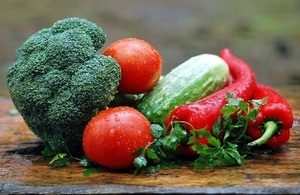 The figures from the latest National Diet and Nutrition Survey (NDNS) collected from 2014 to 2016 show:
• sugar makes up 13.5% of 4- to 10-year-olds, and 14.1% of teenagers' (11- to 18-year-olds) daily calorie intake respectively; the official recommendation is to limit sugar to no more than 5%
• 4- to 10-year-olds consume two thirds of the amount of sugary drinks they did 8 years ago – down from 130g per day in 2008 to 2010 to 83g in 2014 to 2016
• for teenagers, sugary drink intake is more than double that of younger children (191g) even though consumption has decreased by 30%; sugary drinks remain the main source of sugar (22%) in their diets
The survey confirms the UK population continues to consume too much saturated fat and not enough fruit, vegetables, and fibre:
• average saturated fat intake for adults (19 to 64 year olds) is 12.5% of daily calorie intake, above the 11% recommended maximum
• adults consume on average 4.2 portions of fruit and vegetables per day, 65- to 74-year-olds consume 4.3 portions and teenagers consume just 2.7 portions per day
• only 31% of adults, 32% of 65- to 74-year-olds and 8% of teenagers meet the 5 A Day recommendation for fruit and vegetables
• average fibre intake in adults is 19g per day, well below the recommended 30g per day
Dr Alison Tedstone, chief nutritionist at PHE, said:
"Poor diets are all too common in this country and, along with obesity, are now one of the leading causes of disease such as cancer, heart disease and type 2 diabetes. It's clear from these data that the nation's diet needs an overhaul.
"A healthy balanced diet is the foundation to good health. Eating 5 A Day and reducing our intake of calories, sugar, and saturated fat is what many of us need to do to reduce the risk of long term health problems."
The data underscores PHE's call for the population to follow a healthy balanced diet, based on the Eatwell Guide, which includes eating at least 5 portions of a variety of fruit and vegetables per day, increasing consumption of oily fish and fibre and limiting the amount food high in saturated fat, sugar and salt.
Following a healthy, balanced diet and reducing calories will help reduce obesity and the economic and social burden of its consequences.
Share: