Matt Hancock calls for world to unite in responding to the challenge of mental health
Ministers will agree to work towards parity between mental health and physical health at today's global ministerial mental health summit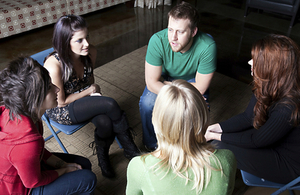 Secretary of State for Health and Social Care Matt Hancock will launch the government's ambition to put mental health on an equal footing to physical health across the world, at the first ever annual ministerial mental health summit in London on Tuesday 9 October.
Key political figures, innovators, experts, policy-makers and people with lived experience of mental health from around the world will come together at the 2-day summit to agree global action to tackle mental ill-health.
The Duke and Duchess of Cambridge, who spearheaded the Heads Together initiative, will join ministers and delegates from more than 50 countries at the summit. Together they will take part in a variety of discussions and expert panels, encouraging them to rethink their current attitudes towards mental health.
The global ministerial mental health summit is hosted by the UK government in partnership with the Organisation for Economic Co-operation and Development (OECD), with support from the World Health Organization (WHO).
The event will also see the launch of a short film from Time to Change called 'It's time to talk (about mental health)'. The film features A-list American actress Glenn Close and contributors from Nigeria, India, Kenya and the UK.
Health and Social Care Secretary Matt Hancock said:
"This summit is a landmark moment in changing the way mental illness is perceived and treated globally. The world must unite and take this opportunity to deliver parity for mental health so it is treated the same as physical health.
"Countries from across the world are in London today to agree action to tackle one of the defining challenges of the 21st century. Whether it's challenging discrimination, promoting wellbeing at work, adopting new technologies, or empowering young people to take steps to a healthier future, long-lasting commitments will be made at this summit which will be a step towards achieving better mental health care for all."
Sue Baker, Director of Time to Change, said:
"After generations of mental health being the poor relation to physical health, many of us hope that this first ever global mental health summit will be a tipping point that prioritises more action on mental health. We've made major progress on mental health stigma in England, and hope the Summit acts as a springboard for change across all countries and cultures, so that there is no shame attached to mental health anywhere in the world."
Share: