Funding boost for the arts to support talented pupils
School Standards Minister Nick Gibb announces £96 million to support talented music, drama and dance pupils kick-start their career in the arts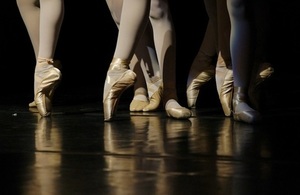 New funding to support talented music, drama and dance pupils to realise their potential and kick-start a career in the arts has been announced by the School Standards Minister Nick Gibb today (Tuesday 10 April). This is a further boost to the arts, which has already seen substantial investment in music hubs for the next two years.
Music, art and design, drama and dance are included in the national curriculum and compulsory in all maintained schools from the age of 5 to 14. The additional £96m takes the total level of support for music and arts programmes to £496 million since 2016. Many recipients of these funds have moved on to successful careers in the arts.
Award-winning actor and star of the Crown, Claire Foy said:
"Without a Dance and Drama Award I would not have been able to train at The Oxford School of Drama. This scheme is vital in providing scholarships for a wide diversity of students to train at outstanding independent vocational schools."
The money will give pupils across the country access to a range of cultural opportunities including:
• Training at the world-famous Royal Ballet School in London;
• Film-making classes at the BFI Film Academy;
• Free opportunities to study art and design at their local college or university; and
• Visits to museums and galleries, using quality resources to support their classroom teaching.
The arts play an important part in the broad and balanced curriculum on offer for pupils, with almost half of all pupils choosing to take at least one arts GCSE last year through subjects such as music, dance, drama or art and design.
School Standards Minister Nick Gibb said:
"The UK has a strong cultural heritage. We have always nurtured creative talent in this country and have a rich history of world famous musicians, actors and dancers.
"For many, this journey starts at school, which is why it is important we support them from the beginning.
"This funding will give more young people the opportunity to develop their talents and help world-famous institutions discover the next generation's Billy Elliot.
"Arts subjects are an important part of our broad and balanced curriculum, and thanks to our reforms and the hard work of teachers, academic standards are rising with 1.9 million more children in good or outstanding schools than in 2010."
Arts Minister Michael Ellis said:
"Our cultural and creative industries are a vital part of the economy and will play an increasingly important role as we build a Britain fit for the future. This £96 million investment will help young people across the country fulfil their artistic potential in our world-leading cultural and creative sectors."
Richard Russell, Chief Operating Officer, Arts Council England said:
"We welcome this announcement of additional funding from the Department for Education, giving more pupils the opportunity to engage in cultural activities in and out of school and supporting the Arts Council's ambition of ensuring high quality cultural education exists for a broad and diverse range of young people.
"Projects such as National Youth Dance Company, National Art and Design Saturday Clubs, and Museums and Schools Programme create fantastic opportunities for children from a diverse range of backgrounds to participate in a range of different activities, and allow them to discover and develop their talents."
Almost £90 million of combined funding will go to the Music and Dance Scheme (MDS) and the Dance and Drama Awards (DaDa). These funds support the most talented pupils to attend prestigious arts institutions, such as the Royal Ballet School in London and Chetham's School of Music in Manchester.
Today, we are also announcing over £8 million to support a number of cultural education programmes. These give young people the chance to try their hand at film making with the British Film Institute, improve their skills with the National Youth Dance Company and explore different art materials at National Art and Design Saturday Clubs. This funding also gives pupils the chance to learn about the country's most famous historical sites with Historic England.
There is also a further boost for the 'In Harmony' projects in Liverpool, Lambeth, Newcastle-upon-Tyne, Nottingham, Leeds, Telford and Wrekin/Stoke-on-Trent. All will receive a share of £1 million to help them to continue to provide music education for disadvantaged pupils in their area. These projects aim to inspire and transform the lives of children and families in deprived communities through the power and discipline of ensemble music making.
This funding is in addition to the £150 million already announced for Music Education Hubs in 2018-20 which will help them to support pupils to explore music and give them the opportunity to excel, regardless of their background. There are 120 Music Education Hubs around the country which have already helped over 660,000 young people to play a musical instrument.
Share: