Keith Fraser speaks at the Child First Youth Justice Conference
Keith Fraser, Chair of the Youth Justice Board (YJB), talks about Child First and over-representation in the youth justice system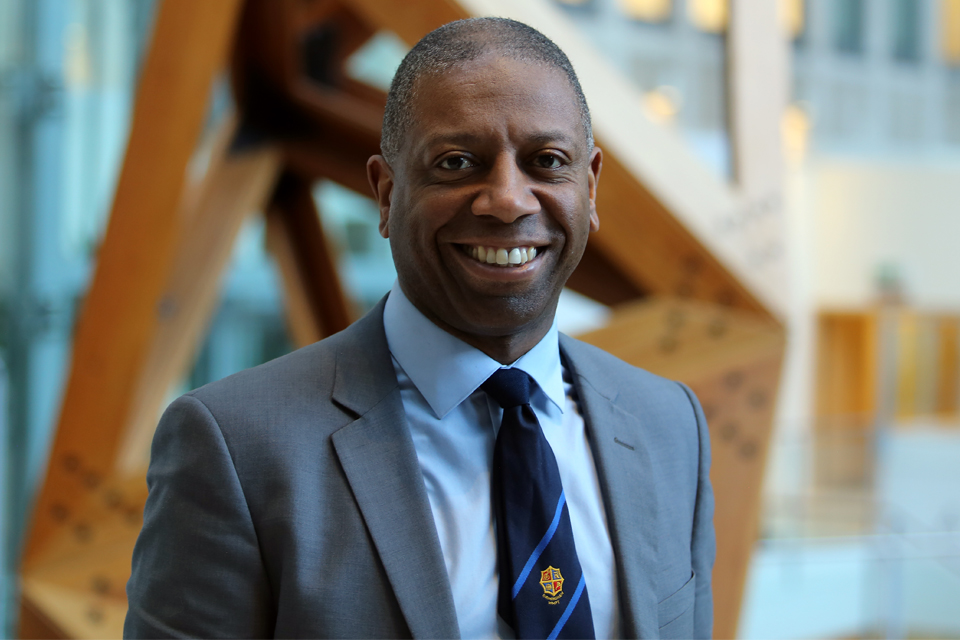 A warm welcome to each and every one of you!
I am delighted to be here, and it really is an honour to open this 'Child First Youth Justice Conference'.
For those of you that don't know me, I'm the Chair of the Youth Justice Board, and in April I celebrated two years in the role.
Prior to that, I had a long career in the police where I worked my way through various positions, from police constable to Superintendent.
At the YJB, I also hold the brief of being the Board Champion for Over-represented children, and that is part of the reason why I am here today.
As you can see, we have a very exciting agenda for today, including some expert speakers and this is thanks to Lancashire Child and Youth Justice Service and supported via its partnership with The University of Central Lancashire (UCLAN) and youth justice services in the north west (these services are: Blackburn with Darwen, Blackpool, Cumbria, Lancashire and Liverpool).
I want to touch on that partnership a little before I start. Five years ago, the YJB published a working guide for setting up partnerships between youth justice services and the academic community.
The aim was to allow youth justice workers to have access to expert advice and training, while giving academics valuable access to data and providing placement opportunities for their students.
So, the seeds were sown, and with such clear mutual benefits it was not surprising that partnerships began springing up across the country, and the rest, as they say, is history.
Last year, the partnership with UCLAN utilised YJB pathfinder funding to commission an evaluation of its Child-First Diversion service.
As befits a Child First approach, the research was participatory in nature and involved UCLAN conducting interviews with a group of children. The children identified themes which were important to them, which in turn helped to inform the wider qualitative and quantitative research methods.
I won't go over too much of that now, but I'd like to thank those of you that joined a webinar the pathfinder held back in April. It provided a fascinating insight into the evaluation and what this pathfinder has achieved over the two years.
There was a great analogy that stuck with me of how the team were looking to embed Child First values throughout the service like a 'stick of rock'. You know, the popular seaside sweets that are the bane of dentists everywhere. Anyway, the point being that Child First is to be deeply 'engrained' and run through all the work that is done. You could say it is a fundamental value or 'guiding principle'.
Having a guiding principle is important for ensuring that daily decision-making stays in touch with the values that really matter.
At the YJB, we have gone about this by crafting the following vision that underpins all that we do:
Our vision is for a Child First youth justice system: A youth justice system that sees children as children, 'treats them fairly' and helps them to build on their strengths so they can make a constructive contribution to society. This will prevent offending and create safer communities with fewer victims.
What I want to do today is to unpick just one element from that vision and talk about it with you.
'Treats them fairly'.
What do we mean by 'treats them fairly'?
I think that we can safely describe that statement as the right to equity of treatment, regardless of age, disability, gender reassignment, marriage and civil partnership, pregnancy and maternity, race, religion or belief and sex.
This, by definition, means that we must reduce over-representation of these groups in the youth justice system.
And so, it is a cause for extreme concern that for some groups of children we are failing to make reductions.
Namely those with Black or Mixed ethnicities, children from Gypsy, Roma and Traveller backgrounds and children looked-after.
Let me give you some examples:
Our annual statistics, published in January, showed that Black children account for 4% of the 10 to 17-year-old population but contributed to:
18% of stop and searches, where ethnicity was known
15% of arrests
12% of children cautioned or sentenced
34% of children in custody on remand, and
29% of the youth custody population as a whole, which is an increase from 18% a decade ago.
Those same statistics also show that children with a Mixed ethnicity are over-represented in most stages of the system. This includes stop and search, arrests, cautions and sentences and custody.
We also know that children from Gypsy, Roma and Traveller backgrounds are disproportionately impacted. A lack of reliable data makes it hard to determine the exact numbers, but an HMIP report from 2018/19 found that 8% of children in young offender institutions and 13% in secure training centres identified themselves as Travellers.
This compares to 0.1% of individuals in the general population, as listed in the 2011 Census, and I suspect that this is merely the tip of the iceberg when it comes to the true extent of this disproportionality.
While we're talking about fairness, and despite patchy data, I also want to acknowledge some of the additional factors that impact and overlap for these groups, and children in the youth justice system as a whole.
It is estimated that at least one in three people in the justice system may be neurodivergent. This is a huge proportion and these individuals will of course have other challenges in their life, both past and present. More work is clearly required in this area.
Indeed, a joint review last year by HMI Prisons, HMI Probation and HMI Constabulary and Fire & Rescue Services, concluded that more effective assessment of need, adaptation of services and better training of staff was needed to support those with neurodivergent conditions.
Adverse Childhood Experiences (ACEs) have a tremendous impact on future violence victimisation and perpetration, and lifelong health and opportunity, with research showing that those that have suffered four or more ACEs can make them more likely to be involved in violence, as victim, perpetrator or both.
When compared to the general population, Black people are five times more likely than White people to become victims of homicide.
Around half (49%) of Black victims were in the 16 to 24-year-old age group.
Also, let us not forget care experienced children. A research brief, published last year, estimated that between 37 per cent and 50 per cent of children in custody have been in care at some point in their lives. Exposure to custody of course escalates the barriers they already face and compounds already damaging stigma.
So, what can we do about it?
At the YJB, we have led a diverse range of activity to help us tackle over-representation several ways. This includes:
Preventing and diverting children from over-represented groups, and indeed all children, from entering the youth justice system in the first place.
Helping to develop and provide positive role models for children from within the youth justice workforce, via the Elevate programme.
Developing and sharing tools so that services can better analyse their local level data and plan how they respond to any disparities.
Commissioning and publishing research.
Enabling strategic partnership conversations around disproportionality and its impact before and during contact with the system.
I'd now like to highlight some of the work we're doing around these areas in more detail for you…
If I was to loosely group some of our activity up, to help to 'prevent and divert', we have:
We supported the Alliance of Sport to secure a record-breaking one-million-pound grant from the London Marathon Charitable Trust for the Levelling the Playing Field project. A three-year innovative project which will engage with over 11,000 children from ethnic minorities using a trauma-informed approach and a health model to prevent and divert children using the power of physical activity and sport.
Started a three-year project on the COVID-19 response to over-represented children in the London boroughs of Brent and Newham. This pathfinder project supports ethnic minority children and families who have been adversely affected by the pandemic, and have experienced additional trauma, leading to an increase in adverse childhood experiences.
Ultimately this project will aim to prevent children from entering the youth justice system.
We worked with the Department for Work and Pensions to pilot a Mentoring Circles programme for 16 and 17-year-old's in the London boroughs of Lewisham and Greenwich.
Provided MoJ funding so that Lewisham Youth Offending Service and Power The Fight could deliver the 'cultural responses to trauma and serious violence' project.
To help 'develop and provide positive role models for children' from within the youth justice system we ran Elevate, a six-month mentoring programme designed to support the progression of middle managers from ethnic minorities (including White minorities) into strategic management - where they are currently under-represented.
In terms of 'developing and sharing tools', we updated the Summary Disproportionality Tool and towards the end of last year we released the Youth Justice Application Framework ethnic disparity tool to youth justice service managers and information management officers.
The tool serves to increase service's understanding of any local issues or concerns and inform their plans to address any disparities.
We provided access to the Summary Ethnic Disproportionality Tool to HMI Probation to add to their information bank for identifying areas for inspection.
We also delivered training and provided access for staff from the Office of Police and Crime Commissioners to the Summary Ethnic Disproportionality Tool which they can share with PCC's nationally to help them understand the data relating to ethnicity for their areas.
In terms of research, we published a report that looked at ethnic disparity in remand and sentencing and are completing commissioned research on ethnic disproportionality and reoffending. We expect a full report by spring 2023.
While we remain determined to drive improvements across the system, we know that we can't do this alone. Therefore, we rely on our ability to 'conduct effective strategic partnership conversations'. Some recent examples include:
Held a roundtable event jointly with the Magistrates Association looking at over-representation and agreed the development of a disparity protocol and checklist for magistrates.
We have linked up with the Association of Police and Crime Commissioners to review the guidance they issue so that diversity and disproportionality are considered within Police and Crime Plans.
And we have worked with the National Police Chief Council across four police forces seeking to address the disparity in out-of-court disposals, particularly Community Resolutions in England and Wales.
As a member of a working group with the Criminal Justice in Wales Board we are developing a one-public-service approach to advance race equality in Wales.
We continue to work with Transform Justice, the Mayor's Office for Policing and Crime (MOPAC) and other stakeholders in London looking at issues around remand from police custody and court.
The YJB is also involved with the Ministry of Justice's 'Opt out' project to provide legal advice for children in police custody and MOPAC is creating a Disproportionality Challenge fund of £500,000.
So, what can 'you' do about it?
Well, as I've said before, we all need to look at the evidence and ask ourselves, "are children from ethnic minority backgrounds over-represented in my area? If so, can I explain why that is, and if I can't, what am I going to do about it?"
How best to go about doing that? Well a great start is to make full use of the tools that we've made available.
Take for example, what has been going on in Birmingham.
Birmingham Youth Offending Service took a closer look at the data and identified several concerns regarding ethnic disparity:
Just under eighty percent of the children remanded to Youth Detention Accommodation were of a Black, Asian or Mixed ethnicity.
Of those that subsequently received a custodial sentence, nearly seventy percent were Black, Asian and Mixed.
They also discovered disparities in the community, with Black and Black British children getting out-of-court disposals at approximately twice the rate of their incidence in the general 10 to 17-year-old population.
So, what did they do? To achieve improved, fairer outcomes for their children, a number of new practice expectations underpinned by policy were developed, enabling a more robust response to ethnic disparity.
This included work both in and out of court. The service overhauled the approach taken to out-of-court disposals. They developed assessment, report and management oversight templates that begin with the child's strengths and needs. These then support practitioners and managers to identify any structural inequalities our children face, all of which can contribute towards disproportionality within the youth justice system.
In terms of court, following a meeting with the Birmingham Magistrates Youth Panel in October last year, they developed a new pre-sentence report template and quality assurance form. Both documents specifically address ethnic disparity, with prompts for the practitioner and reviewing manager to carefully consider and reflect upon.
A pre-sentence report feedback form for sentencers was also developed to easily identify and respond to any emerging sentencing patterns.
Alongside strengthening practice and management oversight before sentencing, a new 'Remand and Custody Quality Assurance Checklist' was introduced and is completed for every child entering the secure estate. This further supports the work to monitor, analyse and tackle the over-representation of children with Black, Asian and Mixed ethnicities in the youth justice system.
Within the first three months after these practices were implemented, custodial sentences for Birmingham reduced by 50% in comparison to the three-month period prior.
Whilst the three children sentenced to custody were Black or Mixed, this work has led to an increase in robust, creative and effective bail support packages, a reduction in the number of children being held on remand and consequently a reduction in the number of children in the secure estate.
I hear that feedback from sentencers has been overwhelmingly positive.
Now, I must be clear that there is no one size fits all approach to this issue, and I expect that responses will vary area by area. Nevertheless, I think that this example gives you a good flavour of what you can achieve when you start with the data.
And so, to sum up…
A Child First youth justice system and a system where children are treated fairly are one and the same thing.
We've seen how children from some ethnic minority groups are getting a raw deal and that additional societal disparities such as looked-after status and disability compound this.
It is unacceptable that a child is more likely to be criminalised because of their background. Within society itself, prejudices and racism exist - as it is society that forms the organisations and systems these will also translate levels of prejudices and racism within those institutions; the youth justice system is not exempt from this.
This is your chance to act and really make a difference. I've said this before, but to really get to grips with this issue we all need to work together. That means that the efforts of each and every one of you are invaluable. Yes, some parts of the system will require more fixing than others and your ability to influence this may vary, but don't let that hold you back. I'll ask you directly, 'what can you do that will make a difference?'
We've made the tools, guidance and research available and shared examples of how this is working on the ground. Please use this to help develop local solutions.
And finally, and possibly most importantly I would like to take this moment to thank you and all the other youth justice professionals for the important role you have played in the operation of the youth justice system. I know that many of you will have worked tirelessly throughout challenging times to keep children and communities safe while often understaffed and having to make major changes to how you work. Your efforts have not gone unnoticed.
In January, we published youth justice data for the year ending March 2021. There were many welcome reductions, including fewer offences and arrests, a fall in the number of children cautioned or sentenced and a record low for children in custody.
It would be easy for ministers and the public alike to assume that there wasn't a need for investment. And so, I was pleased that the government has insightfully delved beyond the headline success of the youth justice system to understand its complexity and in May this year announced increased investment for youth justice.
Let's take this opportunity and make it count. The future prospects of our children depend on it.
Thank you!
Share: