Culture is Digital
Using technology to drive audience engagement, boosting the digital capability of cultural organisations and unleashing the creative potential of technology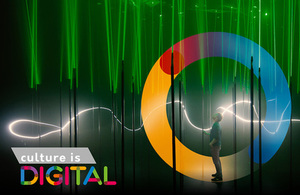 The #CultureisDigital project was informed by an online open conversation last year and was borne out of the Government's Culture White Paper commitment to review the digitisation of our public collections and enhance the online cultural experience.
It also builds upon the Government's UK Digital Strategy commitment to increase digital skills, digital participation and unlock the power of data.
In responding to these challenges, the report showcases innovative projects in the creative sector, highlighting the extraordinary collaborations between our world-leading cultural and digital pioneers and makes 12 policy commitments.
Read the news release.
Explore highlights in our 360 VR presentation.
Documents
Culture is Digital Executive Summary
Culture Is Digital PDF (for download and print)
From:
Department for Digital, Culture, Media & Sport
Arts Council England
National Gallery
Heritage Lottery Fund (administered by the NHMF)
The Rt Hon Matt Hancock MP