Secretary of State welcomes the appointment of Simon Byrne as new PSNI Chief Constable
The Secretary of State welcomes this evening's announcement by the NI Policing Board of the new Chief Constable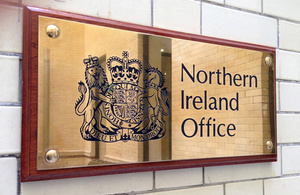 Following the appointment of Simon Byrne as the new Chief Constable of the Police Service of Northern Ireland (PSNI),Rt Hon Karen Bradley MP, Secretary of State for Northern Ireland said:
"I welcome the appointment today by the Policing Board of Simon Byrne as the new Chief Constable of the PSNI. I wish Simon all the very best as he takes up his new role, and builds on work of the current Chief Constable, George Hamilton, whose leadership has been vital during a challenging for policing in Northern Ireland. I thank George Hamilton for the significant contribution he has made to policing in Northern Ireland.
"PSNI continues to deal with many difficult issues on a daily basis and as an organisation makes a vital contribution to the stability of Northern Ireland. Simon brings significant strategic and operational experience to this role at a crucial time. I look forward to working with him and his senior team.
"This Government remains committed to ensuring that the Chief Constable has the fullest possible support to keep the community safe and secure. That is why we have invested significantly in the PSNI, including £160m of additional security funding to tackle terrorism and £25m to support wider efforts to tackle paramilitary activity. This is demonstrably helping to make a positive difference to people's lives."
Share: