James Brokenshire welcomes rise in number of new homes
Figures showing over 222,000 new homes were delivered in 2017 to 2018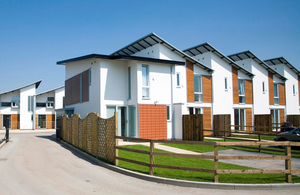 Communities Secretary Rt Hon James Brokenshire MP has welcomed figures published today (15 November 2018) showing over 222,000 new homes were delivered in 2017 to 2018.
This represents the highest level of new homes delivered across England in all but one of the last 31 years and brings the total number of additional homes delivered since 2010 to 1.3 million.
Today's figures demonstrate more desperately needed homes are being delivered - a vital step in ensuring the housing market works for everyone - and that we are on track to deliver 300,000 homes a year by the mid-2020s.
This year's increase follows significant government reforms, including more streamlined planning rules and more investment into the Affordable Homes Programme.
To ensure we continue to build the homes needed, the government has a comprehensive programme of targeted investment, planning reform and other measures. This includes removing the biggest barrier to councils building homes, the Housing Revenue Account borrowing cap – freeing up councils to deliver a new generation of council housing – up to an estimated 10,000 homes a year.
Communities Secretary Rt Hon James Brokenshire MP said:
"Today's figures are great news and show another yearly increase in the number of new homes delivered, but we are determined to do more to keep us on track to deliver the homes communities need.
"That's why we have set out an ambitious package of measures to deliver 300,000 homes a year by the mid-2020s. This includes over £44 billion investment, rewriting the planning rules and scrapping the borrowing cap so councils can deliver a new generation of council housing."
Further information
See the new supply of housing statistics published today.
The 222,190 net additions over the past year resulted from: 195,290 new build homes, 29,720 gains from change of use between non-domestic and residential, 4,550 from conversions between houses and flats and 680 other gains – this has been offset by 8,050 demolitions.
The publication also includes separate data on additions and losses from the stock of communal accommodation: In 2017 to 2018, there was a net increase of 2,270 communal student accommodation units and a net increase of 420 other communal accommodation units, bringing the total net increase to 2,690. These figures are not included in the main net additions figures.
Share: