Government launches consultation on covenant to protect police
New Police Covenant will enhance support and protection for officers, staff and their families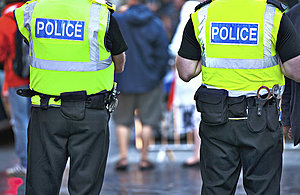 Home Secretary Priti Patel has today (26 February) launched a consultation on a new covenant to recognise the service and sacrifice of the police.
The Police Covenant will enshrine the rights of serving or former police personnel.
It is designed to enhance support and protection for officers, staff and their families.
Home Secretary Priti Patel, who announced the launch of the consultation at the joint APCC and NPCC Partnership Summit, said:
"The police confront danger so we don't have to.
"Current and former officers, members of staff and the families that stand behind them deserve recognition for their immense sacrifices.
"That's why I am bringing forward plans for a Police Covenant – our promise to the policing community that they will always have the support of the nation."
The consultation, which will run for 8 weeks, is being launched to seek views on implementing a Police Covenant in England and Wales.
It covers the themes of physical protection, health and wellbeing and support for families, as well as the scope and wording of the covenant.
Views are also being sought on how officers should be publicly recognised for their bravery and work.
The consultation is aimed at those serving with the police, those who have previously done so, their families and any groups with an interest in supporting the police in England and Wales.
John Apter, National Chair, Police Federation of England & Wales:
"Policing is a dangerous and unpredictable job and it's essential that there is something in place that ensures that police officers, staff, retired colleagues and their families receive the support they deserve.
"This consultation is an opportunity to help shape what a Police Covenant will look like. This is something I feel extremely passionate about and it's great to see this taking a step closer to becoming a reality."
The Home Secretary also announced an additional £41.5 million of surge funding will go to police forces in the 18 areas worst affected by serious violence to help drive down crime.
This money will go towards measures such as increased patrols and forms part of the government's investment in tackling serious violence.
Funding has also been provided for Violence Reduction Units and stepping up the response to county lines.
This follows several commitments to back the police with more resources, powers and support.
Other steps include: the biggest funding boost for the policing system in a decade; the recruitment of 20,000 additional officers over the next 3 years; expanded stop and search powers; and plans to consult on increasing the maximum sentence for assaulting police officers and other emergency service workers.