Chartered Institute of Housing 2020: Housing Minister's speech
Speech by Housing Minister the Rt Hon Christopher Pincher MP at the Chartered Institute of Housing's Housing 2020 Festival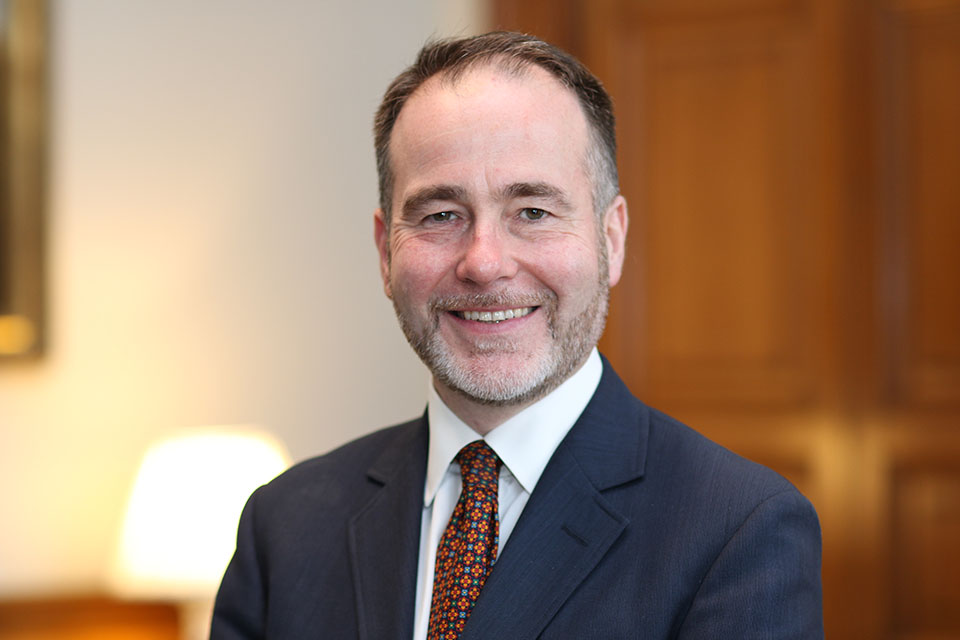 Introduction
Thank you very much for that kind introduction.
It's a pleasure to be addressing you virtually today at the Housing 2020 Festival.
…And I'd like to thank the Chartered Institute of Housing for bringing together such a diverse group of leaders from across local government and the housing industry during these truly unprecedented times.
COVID-19 has challenged our society, our economy and our country in so many different ways.
But the British people have also shown incredible resilience and bravery….
…From the doctors, nurses and NHS staff who have worked selflessly since the start of this pandemic to our carers, teachers, and frontline workers in local government protecting the most vulnerable in our communities.
I also want to recognise everything that housing associations and social landlords have done to continue to meet their residents' needs in the challenging circumstances of the past few months – not least in delivering vital support to vulnerable people.
Businesses from across the country, supported by a £160 billion fiscal response from government, have also risen to the enormous challenges before them.
That includes the construction sector who answered the government's call in March to manufacture more ventilators as well as the wider house-building industry who have played a critical role in helping the country embrace the 'new normal' as we shift from response to recovery together.
The local lockdowns we've seen in Leicester, Preston and Manchester underscore our collective need to stay alert and remain vigilant over the coming weeks and months, especially as winter approaches.
And as a government, we will continue to stand by the vulnerable and those who have been hard-hit financially and personally by this pandemic.
Homelessness and evictions ban
Nearly 15,000 vulnerable people, including rough sleepers and the homeless, were housed in emergency accommodation at the start of this pandemic.
And we are building on these achievements through funding longer-term accommodation – 3,300 homes this year alone – along with tailored support so as few people as possible return to life on the streets.
Last month, we also announced additional protections for renters with a further stay on all housing possession proceedings in court.
That means that no action to progress new or existing claims for possession can be progressed for several weeks.
Thanks to new legislation we brought forward in August, landlords are also required to give 6 months' notice to evict any tenant (private or social) – up from the 3 months required by the original provisions in the Coronavirus Act – except in the most serious of cases.
We also recognise that there are some occasions in which it is right that landlords should be able to start progressing cases quicker.
Through working with the Master of the Rolls' working group, we've identified these types of cases which present the most strain for landlords.
Notice periods for the most serious circumstances, including notices in relation to anti-social behaviour and where over 6 months of rent is due, have therefore been reduced.
We are also working closely with the judiciary, legal representatives and the advisory sector to help courts offer appropriate protection for all parties once the stay on possession proceedings ends.
And we remain committed, once the urgencies of responding to this pandemic have passed, to bring forward legislation which would abolish Section 21 evictions altogether.
Our measures will ensure that struggling households in both the private and social rented sector are not forced from their homes as we head into winter, keeping them safe and preventing extra burden falling on the NHS….
Because we cannot be complacent about the scale of the challenge ahead of us in this national recovery.
And it's right that we help families, communities and businesses to continue adapting to the 'new normal' and the realities of COVID-19…
But I also believe that we should fully utilise the coming weeks and months as a window of opportunity to lay the foundations for long-term economic growth while also building the homes this country needs.
Planning for the future white paper
For our part, we are fulfilling our promise to 'build, build, build' through a complete overhaul of our outdated and antiquated planning system.
As many of you know, last month my department announced radical new proposals for the country's planning system, so that building homes is quicker, easier and more affordable than ever before.
Our Planning for the future white paper will reduce the burdens on small builders through simplifying the planning process and reducing its associated risks, delays and costs.
We are also rapidly accelerating the planning process by going digital and introducing a new system for local plans based on maps and data – not the 500-page, inaccessible planning documents of old.
I am keen to continue working closely with local authorities and the wider housing sector to make sure our proposed reforms work for everyone and that we get this right.
However, today, I want to directly address 3 myths that have surfaced in response to our planning reforms.
The first is the ill-founded criticism that our changes will diminish local decision-making.
Actually, our reforms will ensure consultation with local communities from the very beginning of the planning process.
Land will be designated into 1 of 3 categories – for growth, for renewal or for protection.
I want to be clear – local communities will play a central role in deciding the future of their areas, helping plan where development should go, what standard it should be and what it should look and feel like.
Far from removing communities from the planning process, these reforms inject greater democratic involvement into the system.
We want communities to have their say on setting the plan, rather than reacting to individual applications too late in the process.
This clarity at the plan stage will also provide certainty for developers who will know what is likely to be agreed before making an application.
It also encourages all parties to engage in more strategic, proactive planning rather than the tactical, reactive, rear-guard responses that we've seen too often in the past.
The second baseless charge levelled at our reforms is that they sweep away environmental protections for the countryside and undermine the green belt.
Nothing could be further from the truth.
Our local plan policies require developers to commit themselves to providing – and funding – a vast array of green infrastructure including whole new parks, green roofs, bee bricks and even the planting of community orchards.
Our reforms will ensure that all new streets will be tree-lined – allowing future development to mirror some of the world's most iconic and beautiful examples of integrating nature into urban design – from the Heerstrasse of Bonn in Germany to the Champs-Elysees of Paris.
And on environmental assessments, we want to find a better way of assessing the impact of development on the environment, but we are categorically not weakening any of the existing protections, including our policies on the green belt.
The final myth that's surfaced around our proposed planning reform is the unfounded charge that we risk 'levelling down' our urban areas with too much focus on the South East and too little in the North of England.
Our longer-term proposals prevent the amount of available land being a barrier to building the homes communities need through prioritising brownfield first and directing development to existing urban areas.
They will result in an overall increase in the number of homes being built across the whole country while delivering more houses in the least affordable areas.
When assessing housing need, we are taking bold action which will see enough homes built in the places where people and communities need them.
That's why we are proposing revising the number of homes authorities should plan for.
The proposals in our housing need consultation will increase the supply of land available for new homes to address affordability pressures, support economic growth and foster a more competitive housing market.
They place a much greater emphasis on affordability because, as a general rule, the least affordable places are those where supply has simply not kept up with demand.
And this has also resulted in people being prevented from living where they most want to.
Our proposals fix this problem by equipping councils with the tools they need to build homes where the economy says they are needed the most – where prices are higher and, in many cases, becoming worse.
Our standard method also identifies the minimum number of homes that a council should plan for without setting a target.
This means that decisions about where homes go will not be made by central government, but by local people who know their areas best.
In Planning for the future, we are also consulting on proposals for a binding local housing requirement, but we are clear that this would take account of local constraints and needs, including protecting the green belt and maximising existing opportunities in towns and cities.
Lord Agnew and Land Release Fund
However, we also have to accept that if we are to build the homes this country needs, we need to make sure that enough land is released in the right places.
At least 6% of all freehold land in England and Wales is owned by public sector organisations.
And around two-thirds of that land is owned by local government.
The release of surplus local government land for housing can, and should, play a more significant role in delivering new homes whilst generating receipts that local authorities can then use to reinvest in public services.
Our Land Release Fund is supporting 36 local authorities to do exactly that and it's already taking forward 73 housing projects to release land for more than 6,000 new homes.
The One Public Estate Programme – a collaboration between MHCLG, the Cabinet Office and the Local Government Association – is another example of how we are supporting councils to deliver ambitious property-focused projects.
Since 2013, One Public Estate has contributed to the release of land for more than 14,000 homes but we know that we can go much further and much faster which is why we'll be working on strengthening these programmes in the coming weeks and months.
Conclusion
Through the reforms I've outlined today, we will dramatically ramp up housing supply while delivering on our manifesto commitment to build a million new houses within the term of this Parliament.
…Because boosting supply locally is certainly not a matter of chance.
Council leaders and chief executives don't just put a coin in a policy slot machine, pull the lever and wish for a local plan that delivers the right homes in the right places.
It takes hard work and strategic thought.
We want to help councils make full use of the tools they have at their disposal to unlock development at a local level - whether that be regenerating brownfield land, repurposing empty commercial property or releasing their own public land to the market.
And we won't shy away from strengthening national initiatives such as our Affordable Homes Programme to help councils meet their housing demands while also creating new homes of all tenures; I know the Secretary of State will speak in more depth about this when he addresses this Festival.
Through a concerted effort from national and local government, we will 'build, build, build' while alleviating some of the worst affordability challenges that have held back our housing market for far too long.
In doing so, we will create the right economic conditions for our nation's builders and developers to 'build back' stronger and more resilient than ever before.
Thank you.

From:
Ministry of Housing, Communities & Local Government
The Rt Hon Christopher Pincher MP
Share: