Devolution talks underway in Leeds
Talks will begin today (January 29) in Leeds between government ministers and local leaders on a devolution deal for West Yorkshire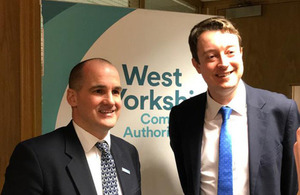 Treasury Minister Simon Clarke will convene a meeting with the West Yorkshire Combined Authority to discuss a deal that would see the region to take control of extra powers and funding from Westminster, giving them more responsibility over local services. He will be joined by Northern Powerhouse Minister Jake Berry and the leaders of Leeds, Bradford, Calderdale, Kirklees and Wakefield Councils.
The government is committed to levelling up opportunities so all corners of the country can benefit from economic growth and prosperity. A devolution deal for the Leeds City Region would empower a new metro mayor, with significant investment made available for local priorities and powers over areas such as transport and skills.
Speaking ahead of the meeting, the Exchequer Secretary Simon Clarke said:
"We are determined to level-up opportunities so that all communities, including those here in West Yorkshire, get their fair share of our future prosperity.
"Today we take a step forward by opening talks on a mayoral devolution deal for the Leeds City Region – right in the heart of the Northern Powerhouse.
"This will give local people, who know their area best, the power to shape their own destiny."
Northern Powerhouse Minister Jake Berry said:
"This government is absolutely committed to transferring power, money and responsibility from Whitehall and putting it back in the hands of the people.
"Our discussions with West Yorkshire represent a significant step forward in securing a workable devolution deal that will allow local people to reap the rewards of having a powerful, locally-elected mayor."

From:
Ministry of Housing, Communities & Local Government
HM Treasury
The Rt Hon Jake Berry MP
Simon Clarke MP
Share: