Government invests £2.7 million to bring communities together through volunteering
£2.7 million is to be invested in communities across the country, the Minister for Sport and Civil Society Tracey Crouch announced today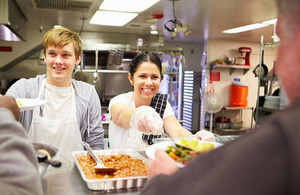 The Connected Communities Innovation Fund, delivered in partnership with the Department for Digital, Culture, Media and Sport (DCMS) and innovation foundation Nesta, will support people and places to thrive through the power of volunteering. The fund also builds on the work already underway between DCMS and Nesta to encourage people of all ages to volunteer and to ensure people see social action as a routine part of their lives.
16 grantees will receive a portion of the fund, with projects using the money to develop and test early stage ideas as well as scaling programmes which are currently having a positive impact.
Examples of projects that will receive funding are:
• EqualArts who will receive £244,000 to expand it's HenPower project across the country. The programme uses hen-keeping to build relationships between care home residents and the wider community and helps to improve wellbeing, while reducing loneliness and depression.
• The Restart Project will be given £204,000 for its project that aims to prevent electronic waste by training people in their community to repair devices instead of throwing them away.
• Volunteer Action North East Lincolnshire (VANEL) will be handed £77,500 to scale the works its doing to harness the skills of retiring and retired blue lights service personnel to help the community prepare, respond and recover from emergencies.
Tracey Crouch, Minister for Sport and Civil Society said:
"Volunteering has a hugely beneficial impact on people's lives. It has the power to harness community spirit and strengthen local areas by improving people's wellbeing and decreasing social isolation .
"This investment will create more opportunities for people to share their skills while supporting people in need - it will also help provide a rewarding experience for the volunteers themselves. I am looking forward to seeing the impact it has on a range of areas over the next few years."
Carrie Deacon, Head of Social Action Innovation at Nesta, said:
"We know that when citizens share their time, knowledge and skills alongside public services, communities can achieve great things together. By supporting these innovative social action projects to develop and grow we know they will transform lives, and make a significant impact on some of the biggest social challenges we face. We're excited to be supporting these projects over the next two years."
Share: