Salaries of top academy bosses to be fair, proportionate and justified
Government issues new publication on setting executive pay in academy trusts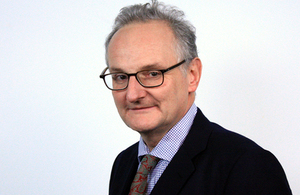 Lord Agnew
Academy trusts have been reminded that salaries should match an individual's responsibilities and the performance of schools under their control, as the government publishes new guidance on setting pay for top executives.
Building on the efforts of Academies Minister Lord Agnew to curb excessive pay, the Department for Education has today (Tuesday 9 July) set out the key factors academy trusts should consider when setting and reviewing executive salaries.
A total of 213 academy trusts have been asked to justify high salaries in the last 18 months as part of a Government clampdown to ensure that pay is proportionate, reasonable and in-line with the overwhelming majority of trusts that comply with rules on salaries set out in government guidance.
During that time 51 trusts have revised down executive salaries, the guidance published today will help more trusts ensure pay demonstrates value for money by giving board members clear advice, including asking them to consider:
• the academic performance and outcomes of the trust – including if the trust is providing a high standard of education and whether expectations are being met
• the context and circumstances of the trust – including how the trust's schools compare to others in its locality
• the financial performance of the trust – using data to measure the trust's financial position and future projection, and not being afraid to make downward salary adjustments where appropriate
• the experience and responsibilities of the individual – including what extra value the expertise will bring to the role, and
• the use of performance management, salary increases and incentives – setting out that pay increases should not be awarded automatically and that boards should pay extra attention to bonuses paid using funds intended for education
This new publication is the first of its kind to be published by the Department for Education, and is in-line with guidance provide by other organisations such as the NHS, Office for Students and further education corporations, to offer advice to their sectors on senior staff pay.
Academy trusts are required to publish high salaries in their accounts and so provide a higher level of public scrutiny than local authority schools that are not required to publish individual statutory accounts.
Academies Minister Lord Agnew, said:
"With academies helping to drive up standards in schools across the country – and more than 50% of children now studying in academies and free schools – it is important that trusts have clear guidance to help them use every pound to deliver a high standard of education.
"Over the last 18 months I have committed to curbing excessive executive pay in a tiny minority of trusts to ensure it is fair and proportionate to the task in hand, and this approach is already yielding positive results.
"This new guidance will help all trusts set executive salaries at a level that is publicly justifiable."
The new guidance builds on the Government's continued drive to curb high pay of academy leaders, with Lord Agnew and Eileen Milner, Chief Executive of the ESFA, both writing to academy trusts over the last 18 months calling on them to justify or reduce their executive salaries, to ensure they match the standard of education on offer to pupils.
It also follows recent updates to the Academies Financial Handbook published last month to underline the importance of the appropriate use of public money and to help school leaders to run trusts that are effective, complaint and successful – this included refreshed material on the role of trustees and governing bodies and the importance of internal checks and systems.
More than 50% of children in state-funded schools in England now being taught in an academy or free school and so having sound financial management across these schools is vital, with this guidance being the latest step in the Government's drive to improve accountability across all academy trusts.
Share: