Education Secretary warns universities over dropout rates
Damian Hinds is calling on universities to tackle high rates of students dropping out as new figures are published today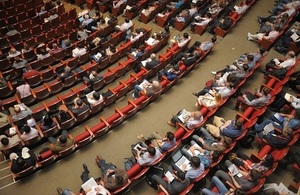 Universities must do more to cut 'damaging' dropout rates or risk undermining the progress made in improving access to higher education, Education Secretary Damian Hinds has said today (8 March).
As new figures are published showing dropout rates by institution – identifying those with the worst non-continuation rates – Mr Hinds has challenged universities to focus on successful participation as well as admissions, particularly for students from disadvantaged and under-represented groups who are more likely to drop out.
The Education Secretary has told universities with the highest dropout rates that their figures create the impression that providers are only interested in 'bums on seats', rather than offering all-round support for students throughout their studies to complete their degree.
The new data published today by the Higher Education Statistics Agency (HESA) shows that in 2016/17, disadvantaged students were more likely to drop out of university in their first year (8.8% of full-time first degree students under-21) compared to their more advantaged peers (6.0%) – a figure that slightly widened from the previous year but has broadly remained stable over the past few years.
Starting university can be both exciting and challenging for some and the figures released today come as Mr Hinds has announced a new task force to help universities support students with the challenges that going into higher education can present. The taskforce will look at ways of helping students manage challenges in four key areas, which includes aspects of student life including managing finances, getting used to independent study, and finding your feet among a large new group of peers.
The Education Secretary is urging universities to look at the data published today and the work of the new taskforce to make sure their students are supported.
Whilst recognising that a range of unpreventable circumstances may lead students to drop out, Mr Hinds is concerned by institutions with rates worse than their benchmarked 'expected performance' – an indicator that predicts the non-continuation a higher education provider ought to achieve given its student profile.
Education Secretary Damian Hinds said:
"We have made huge progress in ensuring universities are open to all, with record rates of disadvantaged and underrepresented groups in higher education, but every step we make on access is undermined if a larger number students then drop out of their courses.
"No student starts university thinking they are going to drop-out and whilst in individual circumstances that may be the right thing, it is important that all students feel supported to do their best – both academically and in a pastoral sense. Today we have announced a new taskforce to help universities support students with the challenges that starting university can involve, but universities need to look at these statistics and take action to reduce drop-out rates.
"If they don't, we have given the Office for Students power to take action. I expect them to do that and challenge institutions to look at what support they can offer – particularly to disadvantaged and underrepresented groups – to turn these figures around."
Other headline figures published by HESA today show that 7.6% of full-time first degree entrants at English HEIs were no longer in HE the following year, while 6.3% of students who were younger than 21 at entry were no longer in HE the following year.
The data also revealed the subjects where students had the highest non-continuation rate among young first degree entrants at UK HEIs. The subjects with the five highest non-continuation rates include:
• Computer Science - 9.8%
• Business & administrative studies - 7.4%
• Engineering & technology - 7.2%
• Mass communications & documentation - 7.2%
• Creative arts & design - 7.2%
In comparison, medicine & dentistry and veterinary science students had the lowest non-continuation rate among young entrants to UK HEIs at 1.5%.
Government reforms created a new watchdog for the higher education sector in 2018 – the Office for Students (OfS) – with the remit to act in the best interests of students. The OfS has been given range of interventions and sanctions to use where necessary, which can include fines, suspension from the OfS Register, or ultimately de-registration.
Damian Hinds wrote to the OfS last week to make clear that access and successful participation is key priority of his and he expects the regulator to continue their efforts in this space.
The Department for Education is already taking a number of actions to mitigate drop-out rates even further, which includes the introduction of the Teaching Excellence and Student Outcomes Framework, alongside a record amount of data on universities – both of which give students information on which university is the best place for them to study.
This forms part of the government's drive to make sure students know exactly where they can get the best value for money, excellence and teaching to make informed choices for their studies.
Share: