SMC response to GCSE and A level results 2021
Social Mobility Commission congratulates students on exam results, but stresses that the gap between disadvantaged pupils and their more affluent peers has widened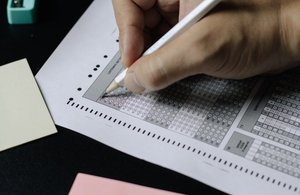 Sammy Wright, Social Mobility Commissioner for Schools and Higher Education and vice principal of Southmoor Academy in Sunderland, said:
"Many congratulations to all the young people who have received the grades they worked so hard for, both today and on Tuesday, and to the teachers and schools who supported them. For many young people, these grades will provide the platform for further achievement in life.
"Unfortunately, not for all. Over the last year, we have called again and again for recognition of the educational damage suffered by young people from the most deprived backgrounds during the pandemic. While the system of Teacher Assessed Grades enables a fair assessment for many students, it does not mitigate for the hardest hit. In asking teachers to reward student performance, not potential, the system made it inevitable that the gap between the most disadvantaged students and their peers would widen – which it has, at both GCSE and A level.
"At the same time as the gap widening, there has been an increase in the top grades, which has happened disproportionately in the most privileged schools - and runs the risk of crowding deserving students out of top universities. There are also regional differences that mirror some of the differential impacts of coronavirus and disadvantage. Underneath these figures, we cannot forget the extreme toll of the pandemic on a small minority of heavily affected young people.
"All this adds up to a long-term, deep-rooted widening of inequality. We need to act.
"We missed the chance for proper contingency arrangements last year and while 2022 exams are now safeguarded, students who have lost out in 2021 will need further support. We welcome the funding of an extra year of study for those Year 13 students facing the most difficult circumstances, and students should be sure to talk to their schools and colleges about this option. But this is not right for everyone. More needs to be done.
"Students receiving their results today will be starting new courses in September. Despite the grades they have achieved, many of them will have significant learning gaps.
"Last year we recommended that the government should act urgently, from this September, to support the 16-19 sector as it works with students from September who will be behind in confidence, self-belief and knowledge. We ask this again."
• Equalise funding between pre and post 16, and using the extra funding to provide extra teaching hours
• Extend the Pupil Premium to post 16
• Refine the Pupil Premium to include extra funding for the persistently disadvantaged
Share: