New Civil Service Commissioners appointed
Joanna Abeyie and Lea Paterson have been appointed as Commissioners as part of the Civil Service Commission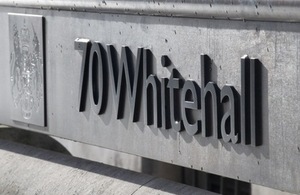 Joanna Abeyie and Lea Paterson have been appointed as Commissioners as part of the Civil Service Commission. Together they bring valuable skills and experience from both public and private sector backgrounds.
The Civil Service Commission is an independent statutory body that oversees appointments to the Civil Service, ensuring that they are made on merit on the basis of fair and open competition. Commissioners also promote and hear appeals brought under the Civil Service Code.
The new Civil Service Commissioners have been appointed by Her Majesty on the recommendation of the Minister for the Civil Service after an open competition which took place in 2021.
The Chancellor of the Duchy of Lancaster, the Rt Hon. Steve Barclay said:
"Joanna and Lea will bring with them decades of experience from across the public and private sectors and I am delighted to have them on board at a really important time for the development of the Commission and its work."
Baroness Gisela Stuart, the First Civil Service Commissioner, said:
"Lea and Joanna bring a wealth of expertise from other sectors in recruiting talented people from a wide range of backgrounds to senior and specialist roles. Their knowledge and experience will be invaluable to our team of Commissioners and we look forward to them joining our board."
The new Commissioners announced today join the Commission from 13 June for a 5 year non-renewable term. Commissioners work part-time, typically between 4 and 8 days a month.

From:
Cabinet Office,
Civil Service Commission
The Rt Hon Steve Barclay MP
Share: