Schools able to buy more with the DfE furniture framework
Use this framework to buy loose and fitted school furniture and bleacher seating from DfE approved suppliers and have it delivered and installed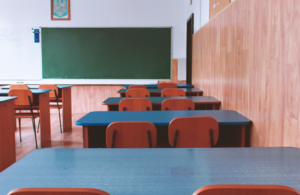 Denbigh Alliance
The Denbigh Alliance is made up of two academies based in Milton Keynes. Pupils are aged between 11-19. As part of a phased approach for a new build, the Trust was looking to buy both loose and fitted furniture.
Phase 1 of the tender process had proved complicated and time consuming.
Having taken over as chief financial officer (CFO), Andy Squires went directly to the find a framework service on GOV.UK to source the next round of procurement. There were time constraints as work had to be completed within the Easter break and COVID-19 restrictions were a consideration.
Andy spoke to Leanne, the DfE furniture framework category manager, who provided advice and guidance, costs on loose furniture and details of the suppliers on the framework. Leanne also provided a comparison based on the specification Andy provided and details of what was and was not included in the framework.
On receipt of the five tenders, Andy went through the scoring process and settled on a preferred supplier. He then worked with Leanne on the contract template and a summary document to be shared with the other supplier tenders, explaining where he felt they hadn't met the requirements.
"It was a godsend to be able to speak to Leanne and put together a recommendation to go to the Board of Trustees with the confidence that DfE were the guardians. The framework offered value for money and a cost-effective process."
Andy Squires, CFO, Denbigh Alliance
Based on Phase 1, costs were expected to be around £150k for Phase 2 and 3, but the contract value was actually £110k – a saving of £40k to invest in other areas. There was valuable time saved from the support Leanne provided throughout the process.
Sustainability was also an important factor when considering this tender exercise, so assistance was provided on environmental and social value content. This included furniture made, or part-made, from recycled materials, or refurbished. Consideration was also given to packaging and a sustainable transport plan, for example use of electric delivery vehicles, optimisation of software for delivery routes to reduce fuel consumption and looking at goods manufactured within the UK. This aspect of the procurement was used to support the school curriculum, involving pupils and increasing their knowledge and awareness of sustainability through efficiencies in the new school.
Hope Academy
Hope Academy in Merseyside caters for secondary education with pupils aged between 11 to 18.
The school was built around 2011 and was at the point where the furniture needed replacing. COVID-19 had also brought about changes in how/where the pupils ate, resulting in a need for additional furniture.
After attending the Schools Commercial Team webinar about the DfE furniture framework, the academy CFO looked into the details for their school requirements.
"It was impressive because I didn't have do anything. I sent Leanne details of what we wanted, and she got four quotes for us."
Stephen Hughes, chief financial officer, Hope Academy
Stephen was pleased with the time it saved him. All requirements were discussed with the chosen supplier and the school saved around £4,000 which will be reinvested to buy new chairs.
You can access all of the DfE-approved frameworks at:
Find a DfE approved framework for your school.
If you have any questions, you can contact the Schools Commercial Team.
Share: