Julie Lennard appointed interim Chief Executive of DVLA
Julie Lennard has been appointed as the interim Chief Executive of the Driver and Vehicle Licensing Agency (DVLA)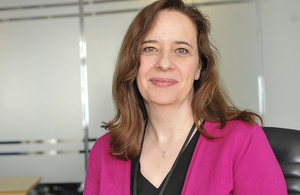 Julie has been DVLA's Director of Strategy, Policy and Communications since August 2014. Prior to this, Julie worked at The National Archives where she was responsible for developing strategic policy relationships with senior stakeholders and overseeing Parliamentary and legislative issues.
Julie has also worked for Which? the largest consumer organisation in Europe, in a range of roles including as a journalist and representing the campaigning organisation to government departments, agencies and other stakeholders at a national and international level.
Department for Transport Permanent Secretary Bernadette Kelly, said:
"Julie is an experienced and highly regarded leader in government and private sector with a proven track record in delivering results. I am sure Julie's experience and knowledge of DVLA and its customers will be invaluable as DVLA continues its drive towards becoming a hub for digital motoring."
DVLA's interim Chief Executive Julie Lennard said:
"I'm really looking forward to leading the team here in Swansea at a time when the agency is taking great steps in innovative digital services for motorists."
Share: