LLWR awards 4 year contract to Cumbrian company
Prima Uno deal is the first for Project Controls under new procurement route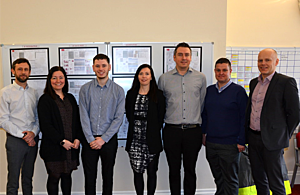 Members of LLWR's Prima Uno team are fully integrated in to the organisation.
LLW Repository Ltd (LLWR) have awarded a four year Project Controls contract to Prima Uno, the specialist project controls, risk, programme and project management consultancy based in Cumbria.
Prima Uno have worked on the LLWR Portfolio for five years and have been awarded the first contract issued by LLWR to provide Project Controls (Planning, Cost Management, Risk Management and Analysis, Change Management, Earned Value Management (EVM), upskilling and skill transfer) under the new Business and Technical Services (BATS) Marketplace.
LLWR has established BATS Marketplace, on behalf of the NDA group, to deliver professional services across 13 business categories.
Four years ago Prima Uno was the first organisation to be awarded a contract under LLWR's Dynamic Purchasing System known as Business Services Marketplace, now replaced by BATS Marketplace, which offers a simple and efficient procurement route for both buyers and suppliers.
Georgina Wilson, Head of Project Controls at LLWR, said: "I am delighted that we are able to continue our successful collaboration with Prima Uno and maintain the provision of an exceptional project controls service across the LLWR organisation."
Sarah Purdham, Managing Director of Prima Uno, said: "Winning this contract means so much to me and the people of Prima Uno. We can continue our relationship with LLWR on a journey to deliver its long term goal and mission.
"We want to improve our current service and continue to deliver an exceptional service. We have been given another chance to make a difference.
"We have an exceptional relationship with LLWR and have always been a fully integrated team. Our demonstrable experience helping blue chip clients achieve sector leading performance puts us in a wonderful position to deliver value to LLWR.
"Through our programme delivery and performance improvement approaches we support clients to achieve increased levels of efficiency, cost savings, assurance and predictability to contribute to our client's goals and targets."
In addition to its Cumbrian head office, Prima Uno has offices in Warrington and in Hanover Square, Westminster.

From:
Low Level Waste Repository Ltd
Share: