Brokenshire announces £570 million to deliver London housing near transport links
Two major new housing communities will be built in London alongside new railway stations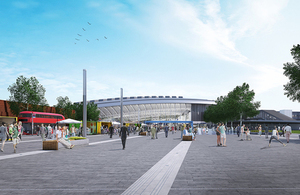 Two major new housing communities will be built in London alongside new railway stations, Communities Secretary Rt Hon James Brokenshire MP said today (14 March 2019).
The government will provide £250 million so up to 13,000 new homes can be built close to the new HS2 railway station at Old Oak Common, near East Acton, London, which will become the UK's best-connected station.
Alongside that, £320 million will be spent on a new Brent Cross West Thameslink station which will lead to a new community of 7,500 properties being built.
The measures form part of the government's drive to make the housing market work and deliver 300,000 properties a year by the mid-2020s.
The Communities Secretary, Rt Hon James Brokenshire MP, said:
"We are working to create homes, opportunities and thriving communities, especially in London which faces the most severe and unique housing pressures in the country.
"The HS2 station at Old Oak Common will offer a new gateway to London, while a new station in Brent Cross can be the catalyst to build thousands more much-needed homes.
"Together, this £570 million package of investments will allow thousands of families the opportunity to realise their dreams of home ownership. It will provide up to 20,000 new homes, support new jobs and benefit from new transport infrastructure."
Old Oak Common
The new station at Old Oak Common is set to transform the area into a vibrant community, supporting up to 65,000 jobs, this funding will ensure the infrastructure is in place to make this exciting ambition a reality.
HS2 Ltd has been set a target by government to open the station by 2026. An estimated 250,000 people will be travelling through the Old Common site every day, becoming a new focal point for the area.
The funding confirmed today will ensure the wider Old Oak community is ready not just to handle this increased traffic, but to thrive as a new landmark destination in the capital.
Brent Cross Cricklewood
A further £320 million will be made available to Barnet Council to deliver at least 7,500 homes at Brent Cross Cricklewood.
The money will be spent on a new Brent Cross West train station on the Thameslink route, which is essential for the homes to be built.
Alongside the new homes, there will be new offices and an extension to the Brent Cross shopping centre.
Further information
The Housing Infrastructure Fund, which funds Old Oak Common, is a £5.5 billion grant programme, launched in July 2017, to support local authorities with the infrastructure impact of escalated housing development, unlocking up to 650,000 homes.
The last round of bids for the Housing Infrastructure Fund were announced in March 2018.
Find the press release that explains what the 2018 Budget means for housing.
Share: