Chief nurse for adult social care to provide clinical leadership during winter
Professor Deborah Sturdy OBE will take up the new role to represent social care nurses and provide clinical leadership to the workforce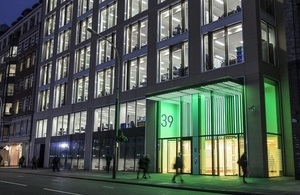 • Professor Deborah Sturdy OBE has been appointed Chief Nurse for Adult Social Care in England
• Professor Sturdy will act as champion for the interests of social care nurses and work to ensure at risk adults are provided with high quality care
• Industry leaders welcome the appointment designed to promote great work and raise standards
Social care nurses in England will soon benefit from the leadership and advice of the first Chief Nurse for Adult Social Care, who was appointed today.
Professor Deborah Sturdy OBE will take up the new role to represent social care nurses and provide clinical leadership to the workforce.
She will work closely with the Minister for Care and the Chief Nursing Officer in this important role to ensure the provision of high quality, personalised, joined up care.
The Chief Nurse will act as an inspiring leader for social care nursing and help develop social care policy and how it relates to the workforce.
Minister for Care Helen Whately said:
"I'm delighted to welcome Deborah Sturdy as our first Chief Nurse for Adult Social Care.
"This is a really important new role ‒ supporting, leading and speaking up for social care and our fantastic care workers.
"This year has shone a light on the commitment of carers across the country. Care staff and nurses have risen to the challenge of providing skilled, compassionate care in the face of the huge challenges of the pandemic.
"The appointment of a Chief Nurse for Adult Social Care is another step towards giving carers the support and recognition they absolutely deserve."
The role is an interim appointment for up to 6 months, to further increase the professional support and expertise in the department over winter ahead of filling the post on a more permanent basis in 2021.
Professor Sturdy has had a long and successful career in nursing, including working with older people and people living with dementia. Since February 2020, Professor Sturdy has worked on secondment for one day a week to the Chief Nursing Officer as strategic adviser for social care nursing.
She has also provided nursing advice to the Gosport Independent Panel, set up to address concerns about the care of residents in Gosport War Memorial Hospital. Before this, Professor Sturdy was employed as professional nursing adviser at the Department of Health and Social Care (DHSC) between 2000 and 2011.
Interim Chief Nurse for Adult Social Care Professor Deborah Sturdy said:
"I am honoured to have been asked to help define a new narrative for social care nursing and support colleagues to find their voice, and contribute to the development of the workforce in the coming months and work together to deliver the best care possible.
"The social care nursing and care workforce together are a powerful force to help shape and deliver the health and social care agenda. I hope that in this role I will be able to give a voice to those working in social care and develop the workforce, through the difficult months ahead and beyond."
Professor Sturdy has held a variety of roles across both health and social care, including clinical practice, management, policy and research and will continue her role as Director of Health and Wellbeing at Royal Hospital Chelsea in a part-time capacity.
One of her main tasks will be to engage with the frontline nursing workforce to listen to their views and act as a champion for their interests in government, and the sector. She will also be promoting and raising standards for the social care nursing and wider workforce and working with our national and regional partners to celebrate success.
Chief Social Workers for Adults Mark Harvey and Fran Leddra said:
"We are so pleased to welcome Deborah as the Chief Nurse for Adult Social Care. We are looking forward to working with her to strengthen and support the adult social care nursing workforce and to help us provide a strong professional voice for the sector."
Ruth May, Chief Nursing Officer for England, said:
"I am looking forward to working with Deborah as she takes up this vital role providing a bridge across health and social care as well as supporting the delivery of the winter plan for social care.
"Most importantly, this means leadership and representation at the highest level for the many thousands of social care nursing colleagues who make a difference to millions of people every day."
Share: