Board announced for new UK Council for Internet Safety
The Government has today announced the organisations that will sit on the Executive Board of a new national body to tackle online harms in the UK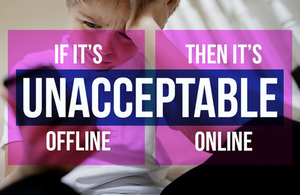 The UK Council for Internet Safety (UKCIS) is the successor to the UK Council for Child Internet Safety (UKCCIS), with an expanded scope to improve online safety for everyone in the UK.
The Executive Board brings together expertise from a range of organisations in the tech industry, civil society and public sector.
Margot James, Minister for Digital and the Creative Industries said:
"Only through collaborative action will the UK be the safest place to be online. By bringing together a wealth of expertise from a wide range of fields, UKCIS can be an example to the world on how we can work together to face the challenges of the digital revolution in an effective and responsible way."
UKCIS has been established to allow these organisations to collaborate and coordinate a UK-wide approach to online safety.
It will contribute to the Government's commitment to make the UK the safest place in the world to be online, and will help to inform the development of the forthcoming Online Harms White Paper.
Priority areas of focus will include online harms experienced by children such as cyberbullying and sexual exploitation; radicalisation and extremism; violence against women and girls; hate crime and hate speech; and forms of discrimination against groups protected under the Equality Act, for example on the basis of disability or race.
CEO of Internet Matters Carolyn Bunting said:
"We are delighted to sit on the Executive Board of UKCIS where we are able to represent parents needs in keeping their children safe online.
"Online safety demands a collaborative approach and by bringing industry together we hope we can bring about real change and help everyone benefit from the opportunities the digital world has to offer."
Share: