Fusion an example of Government science ambitions, says Minister
New Minister of State for Universities, Science, Research and Innovation Chris Skidmore gave his first major speech on science policy during a visit to UKAEA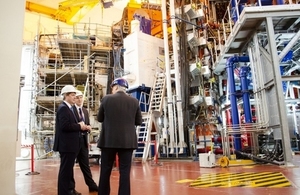 Chris Skidmore tours the European JET fusion experiment during his visit to UKAEA at Culham Science Centre
The UK Atomic Energy Authority's pursuit of commercial fusion is an "example of the vision the UK needs to pursue" to see through the Government's commitment to spend 2.4 per cent of GDP on science and research, according to new Minister of State for Universities, Science, Research and Innovation Chris Skidmore.
Mr Skidmore visited the UK's new fusion experiment MAST Upgrade and the European research device JET at Culham Science Centre today, in addition to delivering a keynote speech on science policy at UKAEA's RACE robotics facility.
"The work of UKAEA here at Culham will help make British fusion power a reality – this kind of national endeavour is a great example of the vision we need to pursue to deliver the 2.4% R&D target," he said. "World-class science, tackling a big global challenge, deeply embedded in the real world and in its community."
In addition to talking about charting a path to an economy investing in science, research and innovation, the minister said one urgent priority was ensuring that as the UK leaves the European Union, it has the "right relationship with European research programmes and with the wider world of science and research."
Mr Skidmore added: "The Joint European Torus is one of the most impressive international scientific facilities not just in the UK, but perhaps in the world. It symbolises the application of world-leading research and engineering to tackle one of the world's greatest challenges: the challenge of clean energy."
During his visit he also met apprentices and staff from Culham's new Oxfordshire Advanced Skills apprentice training centre.
"Places like these are providing the skills our country needs for the future - they are training both the next generation of nuclear researchers and apprentices for businesses across Oxfordshire and beyond," he commented.
Ian Chapman, UKAEA's CEO, said: "We were delighted the Minister chose UKAEA as the place to outline the Government's commitment to science.
"Fusion energy's huge potential is well known and the research is entering the delivery era. Government support in funding new UKAEA facilities like RACE, the Materials Research Facility and the National Fusion Technology Platform allows us to be at the centre of this."
The Minister also visited Reaction Engines, one of the thriving technology businesses on the Culham Science Centre site that are helping to cement Oxfordshire's international reputation for science and innovation.
Read the full text of the Minister's speech: https://www.gov.uk/government/speeches/making-science-work-together-how-can-we-build-the-best-possible-future-for-science-research-and-innovation-in-the-uk
Share: