Elections Bill introduced in Parliament today
New legislation to strengthen the integrity of UK elections and protect our democracy will be introduced in Parliament today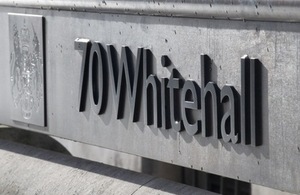 • Elections Bill will deliver on manifesto pledges to protect our democracy
• Legislation will make sure elections are secure, modern and fair
• Measures include securing the ballot, introducing digital imprints and tightening up rules on electoral intimidation
The Elections Bill will update elections law and deliver on a number of manifesto commitments to protect our democracy, and ensure that it remains secure, modern, transparent and fair.
A range of new measures will keep our electoral system up-to-date, including tighter new laws to stamp out the potential for electoral fraud, make our politics more transparent and further protect our elections from foreign interference.
Minister of State for the Constitution and Devolution, Chloe Smith, said:
"Our democracy is precious, and to continue to protect it, we need to update our laws to ensure they are fit for purpose and in line with the modern world.
"The Bill will strengthen the integrity of our elections, by increasing transparency, fairness and accountability; providing more protection for candidates and voters; and making our polls more inclusive.
"And crucially it will provide more protection for both candidates and voters. Robust debate has always been a fundamental part of our democracy, and freedom of expression is part of its appeal - but a line is crossed when disagreement mutates into intimidation and abuse that shuts down free debate."
The Elections Bill places British citizens' participation at the heart of our democracy, supporting voters to make their choices freely, securely and in an informed way.
Stealing someone's vote is stealing their voice - so to stamp out any potential for voter fraud, the Elections Bill will include sensible safeguards for postal and proxy voting, which will see party campaigners banned from handling postal votes, put a stop to postal vote harvesting and make it an offence for a person to attempt to find out or reveal who an absent voter has chosen to vote for.
The Bill will strengthen the security of the voting process by introducing a requirement for voters to show an approved form of photographic identification before collecting their ballot paper to vote in a polling station. This will bring the rest of the UK in line with Northern Ireland, where photo identification has been used successfully since 2003. And, for any eligible voter who does not have one of a broad range of accepted identification documents, a free, locally issued Voter Card will be available from their local authority.
Collectively, these measures serve to reassure electors that their vote, regardless of the method they choose to use, is secure.
The Parliamentary by-election in Batley and Spen has seen disturbing scenes of intimidation of candidates and campaigners. Elsewhere, a Member of Parliament has had to be moved to a safe house after death threats, and in Lanarkshire, a councillor has been targeted in an arson attack for the third time.
To help maintain public confidence in the democratic debate, the Bill also includes a package of measures to support voters to make informed choices at the ballot box, free from interference or abuse.
A new electoral sanction will be introduced to protect campaigners and those standing for or holding elected office from inexcusable intimidatory or abusive behaviour - both in person or online. To further protect voters, the Bill will make it clearer in law what constitutes 'undue influence' of a voter, to better enable prosecutions.
A new digital imprints regime, which will be one of the most comprehensive in the world today, will require political campaigners to explicitly declare who they are when promoting campaign content online and on whose behalf, so that voters are clear who is trying to influence them.
Measures will increase transparency in political campaigning and safeguard our democracy from foreign interference by changing the law so that only UK based - or otherwise eligible sources with a genuine and legitimate interest in our elections - can spend money campaigning in our elections. The creation of a new lower tier of registration for third-party campaigners spending over £10,000, will also give the public greater visibility over who is seeking to influence elections.
The Bill will also ensure effective and independent regulation of the electoral system is upheld by increasing the accountability of the Electoral Commission to Parliament.
To increase participation in our democracy, the Bill will deliver the longstanding commitment to remove the arbitrary 15 year limit on overseas electors voting in UK Parliamentary general elections. It will also update the local elections franchise in England and Northern Ireland following EU exit.
Finally, the legislation will better support voters with disabilities to exercise their democratic right, by removing restrictions on who can act as a companion to a disabled voter at the polling station and requiring local returning officers to provide support for a wider range of needs.
The Elections Bill builds upon the good progress made on our long-term objectives, as set out in the government's wider Defending Democracy programme. The changes it will deliver will work alongside measures in the Online Safety Bill and Counter-State Threats Bills, which were announced in the most recent Queen's Speech, to protect our globally respected UK democracy from evolving threats and ensure the systems that underpin it are fit for purpose in society today.
Share: