Simplified 'Public Sector Contract' cuts red tape for small businesses
New Public Sector Contract will make it easier for companies that want to supply to government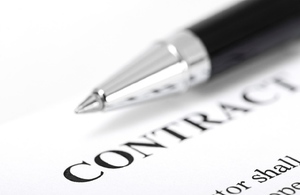 The Government has launched a new, simplified Public Sector Contract designed to make it easier for businesses to apply for Government contracts.
This new contract removes duplication from the application process and streamlines procurement for companies that supply to government through Crown Commercial Service (CCS) procurement frameworks.
The move will make it easier than ever for smaller businesses, who may lack the resources to read and digest reams of complicated terms and conditions, to supply goods and services to government.
Emma Jones, Crown Representative for Small Business says:
"The new CCS contract is shorter and easier to understand and takes a more standardised approach. This should save SMEs time and money when deciding to bid for CCS deals and I welcome the approach."
Harry Harrold, of Norwich based software development company Neontribe, said:
"Neontribe is proud to be part of the network developing digital services for the public good, delivering better for less. This new, simpler contract will help us and other small and medium sized businesses win more of those projects."
The Public Sector Contract was developed using OneTeamGov principles in partnership with Government Digital Service and Government Legal Department.
The work saw CCS's Policy Implementation team nominated for a GO Award, celebrating excellence in public procurement.
CCS's standard terms and conditions are now available online via gov.uk, with only those elements actually necessary for deals signed through CCS frameworks included in contracts.
To view the new Public Sector Contract, visit the PSC pages.
Share: