Amanda Spielman to continue as Ofsted Chief Inspector
New two-year term to commence on 1 January 2022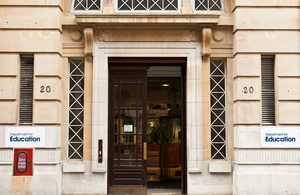 The Education Secretary has today confirmed the reappointment of Amanda Spielman as Chief Inspector of Education, Children's Services and Skills (HMCI) for a new term of two years.
The new term will commence on 1 January 2022, at the point the Chief Inspector's initial five-year term concludes, and will run until 31 December 2023.
The reappointment was confirmed by the Privy Council, following an appointment process conducted in line with the requirements set by the Commissioner for Public Appointments.
The Education Secretary and Chief Inspector will work closely together to support the early years, schools, colleges and children's services as they support children to recover from the impact of the pandemic. Ofsted inspections are expected to resume in full across all settings from September 2021, while remaining sensitive to the context of the pandemic.
Education Secretary Gavin Williamson said:
"Amanda Spielman has a wealth of knowledge and experience from her five years leading Ofsted that will be invaluable as we work to support the education sector to make sure every child is able to recover from the impact of the pandemic.
"I am grateful she will remain in place as Her Majesty's Chief Inspector for a further two years to oversee a smooth reintroduction of a full programme of inspections, providing vital constructive challenge and reassurance to parents and families."
Chief Inspector of Ofsted Amanda Spielman said:
"As the country emerges from COVID restrictions, the education and care of our children has the highest priority - and there has never been more focus on the skills agenda as we re-energise our economy.
"Ofsted's work improves education and social care. I'm delighted to have more time as Chief Inspector and I'm determined to spend that time acting in the best interests of children and learners."
Chair of Ofsted Christine Ryan said:
"Ofsted's work is more important than ever as early years providers, schools, colleges and the social care sector start to recover from the pandemic.
"A period of continuity is needed to support that recovery, and I look forward to working with Amanda, and the rest of the Ofsted Board, to ensure we have a robust strategy for the coming years."
Between 2011 and 2016, Spielman was chair of Ofqual, the qualifications regulator. From 2005 she was a founding member of the leadership team at the academy chain Ark Schools, where she was Research and Policy Director and an education adviser to Ark, the education charity.
The reappointment has taken place in line with the Public Appointment process, which includes securing agreement for reappointment from the Secretary of State Gavin Williamson, the Cabinet Office, Prime Minister Boris Johnson and Her Majesty the Queen. The final confirmation of reappointment is confirmed by the Privy Council.

From:
Department for Education
Ofsted
The Rt Hon Gavin Williamson CBE MP
Share: