New support for young care leavers starting an apprenticeship
Care leavers who choose to start an apprenticeship will receive a £1000 bursary to help the transition into the workplace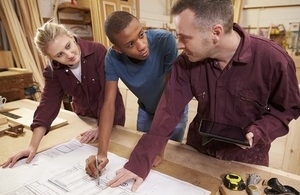 Care leavers will be boosted by a new £1,000 bursary payment if they choose to do an apprenticeship from August 2018, the Government has announced today (17 May).
The extra financial support will be for those aged 16-24 and help them in the first year of their apprenticeship as learners transition into the workplace for their practical studies.
This change is one of a small number of improvements – including increasing the number of apprenticeship funding bands - which will come into effect from August 2018.
Apprenticeships and Skills Minister Anne Milton said:
"We know those leaving care can experience additional barriers to getting an apprenticeship.
"Everyone should get a chance to be able to start an apprenticeship and change their life, so I'm really pleased that as we see how we can make the apprenticeship system work better we are able to offer this extra support for those leaving care."
Chief Executive of The Children's Society Matthew Reed said:
"It can be hugely difficult for children leaving care to manage their finances for the first time without the family support enjoyed by other young people and they are more likely than their peers to not be in education, employment and training.
"Care leavers have told us how they have struggled to make ends meet and pay the bills after taking up an apprenticeship on low rates of pay when they cannot rely on additional support from parents such as being able to continue living in the family home.
"That's why The Children's Society called on the Government to offer an additional grant to all care leavers in their first year of an apprenticeship, when pay can be as low as £3.70 an hour, and we are delighted that ministers have listened. We hope this grant will make apprenticeships a more viable option for young people looking to find work after leaving care and help set them on the path to a brighter future."
The £1,000 bursary will be paid once to each care leaver in the eligible age range, when they start an apprenticeship after 1 August 2018. This comes in addition to the £1,000 we provide to both employers and training providers when they take on 16 to 18 year olds or 19 to 24 year olds who were in care or who have an Education, Health and Care plan.
The new apprenticeships funding policy was introduced in May 2017, in support of the apprenticeships levy. For more information, read the new Apprenticeships Funding policy paper.
Share: