Annual report of the Chief Schools Adjudicator for England
Office of the Schools Adjudicator (OSA) annual report for September 2017 to August 2018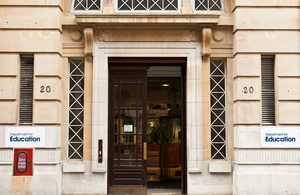 The annual report of the Chief Adjudicator, Ms Shan Scott, to the Secretary of State for Education, covering the period 1 September 2017 to 31 August 2018 is published today, (17 January 2019). The report records the progress made by admission authorities in England in complying fully with the school admissions code and achieving fair access to schools for all children.
In her report, Ms Scott states that adjudicator casework and reports from local authorities suggest that the admissions system as a whole works effectively in the normal admissions round and that the needs of vulnerable children and those with particular educational or social needs are generally well met at normal points of admission to school.
The Chief Adjudicator drew attention to the use of the pupil, early years and service premiums in school admissions. The premiums are additional sums of money given to schools to help support the achievement of children from disadvantaged backgrounds or whose families serve in the armed forces. Around 550 schools now give priority for places to children entitled to one or more of the premiums. Although this number represents a small proportion of the 20,200 state funded mainstream schools in England, reports made to the Chief Adjudicator suggest that the number is growing year by year. The schools using one or more of the premiums include primary and secondary schools, urban and rural schools and academies and local authority maintained schools.
While most schools and local authorities work hard and collaboratively to find places promptly for children – especially vulnerable children – who need them outside of the normal admissions round, there continue to be some difficulties. Reports from local authorities suggest that some schools are less willing to play their part and adjudicator casework also revealed that local authorities themselves did not always follow proper procedures when seeking to find a place for a child. As a result, the Chief Adjudicator believes that some of the children who can least afford to miss any part of their education are out of school for too long.

From:
Department for Education
Office of the Schools Adjudicator