Attorney General seeking feedback on new disclosure guidelines
A new consultation has been launched on changes to the Attorney General's Guidelines on Disclosure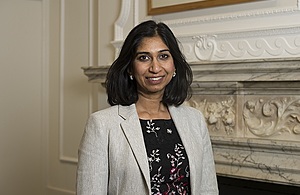 The Rt Hon Suella Braverman QC MP
A new public consultation has been launched which seeks feedback on changes made to the Attorney General's guidelines on the disclosure of unused material in criminal court cases.
The Attorney General's Guidelines on Disclosure, along with the Criminal Procedure and Investigations Act (CPIA) Code of Practice were revised to reflect the challenges of modern disclosure practice, including the increase of digital material and the delays this increase causes.
The eight-week consultation opens today and is primarily seeking the views of those with experience in disclosure practices, including investigators, prosecutors and defence lawyers.
Commenting on the consultation, the Attorney General, Rt Hon Suella Braverman QC MP, said:
"One of my first priorities as Attorney General is to continue the Government's work in rebuilding confidence in our justice system, particularly with victims.
'Getting the balance right on disclosure is vital to ensure fairness to the accuser and the accused. That's why I am keen to hear from not only those who have used the disclosure guidelines or CPIA Code, but anyone with experiences of disclosure including victims."

From:
Attorney General's Office
The Rt Hon Suella Braverman QC MP