Ofsted announces new early years inspection arrangements
A new approach to inspecting early years providers will give good and outstanding providers more consistency while prioritising providers rated less than good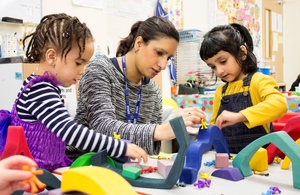 Ofsted is to introduce a new, more proportionate and flexible approach to inspecting nurseries and childminders that will prioritise the inspection of providers rated less than good.
The vast majority of registered childcare provision in England is safe and of a high quality. According to Ofsted's latest figures, more than 9 in 10 early years providers are judged good or outstanding.
When full routine early years inspections resume, Ofsted will schedule early years inspections based on the most current risk assessment of the provision from its work as a regulator, including each provider's previous judgement, in order to prioritise the re-inspection of the relatively small proportion of nurseries, pre-schools and childminders that are not yet good and those where there are significant concerns. This will allow Ofsted to act more proportionately and will align with the inspection approaches for other education and social care providers.
Under the new arrangements, all early years providers will be inspected in a 6-year window from the date of their last inspection. This will allow Ofsted to be more proportionate to risk and it will bring more consistency for good and outstanding providers in the time between inspections.
Some arrangements will not change: Ofsted will still aim to inspect all new childcare providers within 30 months of registration where possible, childcare providers judged to require improvement will be inspected within a year and inadequate childcare provision will be inspected within 6 months. If there are concerns about any childcare provider, Ofsted can use its regulatory powers between inspections, and bring forward an inspection following a risk assessment.
Routine inspections of nurseries and childminders have been suspended since March 2020, interrupting the last early years inspection cycle and creating longer periods between routine inspections. When inspections under the education inspection framework (EIF) resume, Ofsted will carefully prioritise their approach.
Yvette Stanley, National Director for Regulation and Social Care, said:
"Parents and carers with young children can be assured that the vast majority of childcare provision in England is safe, effective and high quality, and it continues to get better.
"The impact of COVID-19 and the interruption of the previous inspection cycle presents the opportunity to rethink our approach and to inspect more proportionately, bringing forward inspections of providers that are a source of concern."

From:
Ofsted
Share: