Boost for public safety as four justice bills receive Royal Assent
The government delivers on its pledge to protect the public better and restore confidence in the criminal justice system as four major bills became law today (28 April)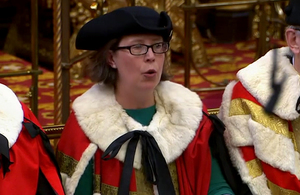 Baroness Evans of Bowes Park, Leader of the House of Lords and Lord Privy Seal, announces Royal Assent in the House of Lords
More powers to police and tougher sentences for worst offenders
Minimum age of marriage in England and Wales raised to 18 to keep children safe
New courts measures to reduce delays for victims

The Police, Crime, Sentencing and Courts (PCSC) Act equips the police with the powers and tools they need to combat crime and create safer communities, while overhauling sentencing laws to keep serious sexual and violent offenders behind bars for longer.
New court orders will crack down on knife crime, making it easier to stop and search known knife offenders and prevent future tragedies. Alongside this a new legal duty will be placed on different parts of the public sector to work together to tackle serious violence.
The act will also give greater protection to the vulnerable – domestic abuse victims will be given more time to report incidents of common assault or battery and higher maximum penalties will be introduced for child cruelty offences. Judges will now be able to hand down life sentences to dangerous drivers who kill on our roads and the act also halts the automatic early release of offenders deemed to be a danger to the public.
Meanwhile, the Judicial Review and Courts Act delivers on a manifesto commitment to ensure courts are not open to abuse and delay and provides much needed flexibility on the outcome of Judicial Reviews (JR). Crucially, it also ends inefficient so-called 'Cart' JRs to minimise delays in immigration, asylum and other cases that have already been refused permission to appeal by judges.
Two important government-backed Private Members' Bills were also added onto the statute book today. Under the Marriage and Civil Partnership (Minimum Age) Act the legal age of marriage will be raised to 18 in England and Wales to protect children from the scourge of forced marriage.
The Approved Premises (Substance Testing) Act strengthens the Probation Service's ability to tackle drug abuse among offenders through new compulsory testing to reduce reoffending.
Deputy Prime Minister, Lord Chancellor and Secretary of State for Justice Dominic Raab said:
"This government has been clear in its commitment to cut crime and protect the public – and today we are delivering on that promise.
"These new laws give the police and courts the tools they need to keep people safe – particularly women and children – and will restore confidence in the criminal justice system by making sure punishments fit the severity of the crime."
The laws passed today build on the government's Beating Crime Plan to reduce crime, better protect victims and make the country safer. It has already seen the recruitment of more than 13,500 of the 20,000 extra police officers promised by March 2023 – one of the Prime Minister's first commitments in office.
The PCSC Act also doubles the maximum penalty from 12 months to 2 years for those who assault police or other emergency workers, such as prison officers, fire service personnel or frontline health workers – helping to protect those who put their lives on the line to keep communities safe. It will also bring 'Harpers Law' onto the statute book, introducing mandatory life sentences for anyone convicted of killing an emergency worker whilst committing a crime.
Home Secretary Priti Patel said:
"Today is a landmark moment for the people of our country. The measures we promised to introduce to cut crime and make are streets safer are now law.
"Passing the Police, Crime, Sentencing and Courts Act is integral to our Beating Crime Plan and delivers on our commitments to back the police, level up the entire country and give everyone the security of a safe street and home.
"This act will support the 20,000 additional police recruits that will be in place this time next year to reduce serious violence, including knife crime and domestic abuse, and make sure the very worst criminals are thrown behind bars for the longest possible time."
Today's announcement comes as the government is investing £477m to deliver speedier justice for victims and reduce the backlog of cases which rose significantly during the pandemic. This includes lifting the cap on Crown Court sitting days for another year to ensure courts can continue working at full capacity to minimise delays.
The Marriage and Civil Partnership (Minimum Age) Act was sponsored as a Private Members' Bill by Pauline Latham MP. It will also make it an offence to arrange a child marriage under any circumstances with perpetrators facing up to 7 years behind bars.
The Approved Premises (Substance Testing) Act was brought forward by Rob Butler MP and toughens drug testing within accommodation used by the probation service to house recently released high-risk offenders on licence. The move will help probation staff better identify those at risk, keep them on the path to rehabilitation and cut crime.

From:
Ministry of Justice
Home Office
The Rt Hon Dominic Raab MP
The Rt Hon Priti Patel MP
Share: