Secretary of State issues rallying cry at COP26
Work and Pensions Secretary of State Thérèse Coffey has urged world leaders to follow the UK's lead in the fight against climate change during talks at COP26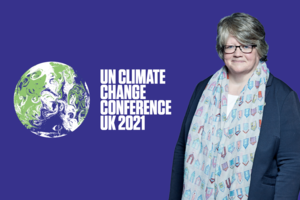 In a speech to mark Finance Day, she outlined how the UK is leading the world in mobilising billions of pounds of climate finance, particularly through pensions funds, to help power the UK to net zero.
The Pensions Secretary also talked through the UK's agenda-setting progress in the financial sector, during discussions with international counterparts, panel events and roundtables.
While there, she took part in a Green Horizons panel discussion and met representatives of finance giants Blackrock, Legal and General, and Willis Towers Watson.
Work and Pensions Secretary of State Thérèse Coffey said:
"COP26 must be a defining moment for the world to get to grips with climate change.
"Our pensions can be a superpower that delivers prosperity for people and the planet in our race to net zero and by following our example, I sincerely hope others around the world can unlock a similar power and propel our world to net zero."
The UK is the first country to legally require pension trustees to assess and publish the financial risks from climate change, helping make pensions better for people and planet.
And last month, the UK Government set out its expectations for pension schemes to measure and publish how the investments they make support the goals of the Paris Agreement climate goal of striving to limit global warming to 1.5C.
In addition, the Department for Work and Pensions is supporting the green jobs revolution. Through wide-ranging programmes, including Kickstart, Sector-based Work Academy Programme (SWAPs), traineeships and skills bootcamps, alongside the tailored support of our dedicated Work Coaches, the department is helping pivot the nation into new, growing sectors – and putting the UK at the forefront of a green recovery. The Kickstart Scheme alone has connected young people with exciting new green jobs right across the country - from biodiversity roles in Telford, energy efficiency advisers in Yorkshire, and roles combating air pollution in Hendon.

From:
Department for Work and Pensions
The Rt Hon Thérèse Coffey MP
Share: