Regulator publishes conclusion to intervention and enforcement powers consultation
Updated guidance on intervention, enforcement and use of powers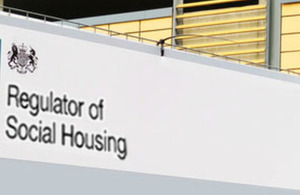 The Regulator of Social Housing has today (16 December 2019) published the responses and its conclusion to a consultation on updates to guidance on its use of powers in relation to intervention and enforcement.
The guidance sets out the regulator's general approach to intervention and enforcement and the high-level objectives and principles underpinning its approach to dealing with poor performance. Its focus is the regulator's use of powers – it is not intended to be general guidance on legislation or legal advice to registered providers or other third parties.
The 8-week consultation, which ran from June to August 2019, sought feedback on the regulator's modifications to the guidance in response to recent legislative changes, including the introduction of the July 2018 Housing Administration regime (under The Housing and Planning Act 2016); the Co-operative and Community Benefit Societies Act 2014; and the regulator's move to a standalone status in October 2018.
Chief Executive, Fiona MacGregor said:
"With increasing diversification, scale and complexity within registered providers, the changes to our insolvency regime strengthen our powers to manage financial failure, although the focus of our regulation remains on preventing organisations reaching this stage. The Housing Administration regime supplements our existing powers such as moratorium provisions and has introduced special Insolvency Rules and Regulations which govern how the regime operates.
"Thank you to everyone who provided feedback to this consultation; we are confident that we have updated the guidance accurately to reflect the various changes in legislation. This latest version of the guidance is an update to reflect recent changes in the law. Should there be further changes to legislation or to our role we will consider any consequential changes needed to our guidance once again."
The consultation responses and the updated guidance are published on the Consultation on changes to the intervention, enforcement and use of powers guidance webpage.
Share: