Police to receive £60 million to support COVID-19 response
Police forces in England and Wales will be reimbursed with £60 million to support increased enforcement of coronavirus rules, Home Secretary Priti Patel has announced today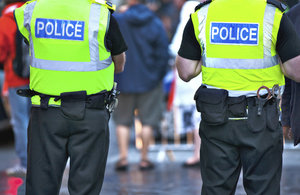 Since the start of the pandemic, officers across the country have played a crucial role in helping to stop the spread of the virus, by enforcing the COVID-19 regulations to protect the public, while continuing with investigations and keeping our streets safe.
£58 million of the money announced today will be made available to help pay for costs incurred by police due to the pandemic, including overtime and making police stations COVID-secure.
It brings the total amount of funding available to forces since the start of the pandemic to nearly £200 million.
From Monday, some forces will also assist with further increased presence and enforcement of regulations at airports and ports, to ensure travellers are complying with the new border health measures.
Additional officers will be deployed at airports and ports to support the enforcement of these regulations, including checking the reason for passengers' journeys and helping ensure compliance of arrivals from red list countries who will be part of the mandatory quarantine scheme announced by the government this week.
Forces involved in these efforts will receive a share of £2 million to help cover costs of this additional activity to the end of March.
Home Secretary Priti Patel said:
"Our police officers have worked tirelessly to keep the country's streets safe while enforcing the coronavirus regulations to protect the NHS and save lives.
"The public also have a vital part to play – this includes not travelling unless essential, which is why police will also be stepping up checks at airports.
"We are committed to supporting them as they continue this crucial activity and are providing specific funding for coronavirus costs."
The overall funding, which covers the financial year 2020/2021, will allow forces to maintain and, where necessary, increase capacity to continue enforcement of the regulations.
Individual force shares of the £58 million are specified below. Shares of the £2 million for enforcement at airports and ports will be confirmed in due course.
Share: