Government launches new fellowship programme to attract top tech talent into the Civil Service
Digital and tech leaders can apply to the programme for an opportunity to work on some of the UK's most important public sector challenges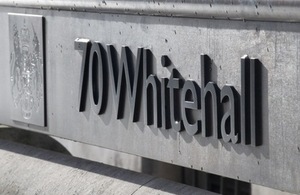 • Digital and tech leaders can apply to the programme for an opportunity to work on some of the UK's most important public sector challenges
• Applications for the one-year fellowship open today, 10 March, and close 28 March 2021
The new No.10 Innovation Fellowship programme, run jointly by Number 10 and the Government Digital Service (GDS), aims to attract top talent from the digital and tech sector into government to help transform the delivery of public services.
The scheme, inspired by the US Presidential Fellowship programme, will see around 10 Fellows join the programme each year. The 2021 fellowship cohort will be working on important digital innovation projects with five central government departments across England:
• Ministry of Defence - Serious games: using deep reinforcement learning to support planning for military operations
• Department for Education - Harnessing the potential of digital solutions in education
• Foreign, Commonwealth and Development Office - Unlocking the power of data to address humanitarian crises
• Department of Health and Social Care - Designing high-impact data solutions in the fight against COVID-19 and beyond
• Ministry of Justice - Using digital solutions to better manage offenders in the community
The scheme aims to attract a diverse group of Fellows who are passionate about using cutting-edge technologies and approaches to create positive change in society. Those who are successfully appointed will work closely with senior leaders in departments and build strong relationships with their cross-government Fellowship peer group.
The programme is funded by Cabinet Office and supported by an Advisory Board. The Board is made up of digital and tech leaders from industry, government and academia who advise on the development and delivery of the programme.
Chair of the Advisory Board and Executive Director, Central Digital and Data Office Joanna Davinson said: "It's essential that we have the right technical skills and experience within the Digital, Data and Technology (DDaT) profession to deliver the best public services. We already have a wealth of talent in the Civil Service and this programme will allow us to harness external expertise in tackling some of the biggest challenges we face. I look forward to meeting our first cohort."
You can apply to be a No.10 Innovation Fellow through the No.10 Innovation Fellowships programme website. Applications are open from 10 March to 28 March 2021.
Share: