New greener police cars to run on hydrogen
Zero emission vehicles to be used by taxi firms and police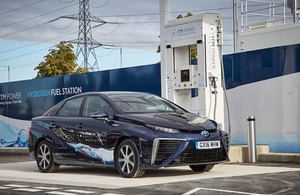 New greener police cars to run on hydrogen.
Police cars and taxis will be among nearly 200 new hydrogen powered vehicles switching to zero emission miles, thanks to a multi-million pound government boost.
The zero emission vehicles are part of a project that has won £8.8 million in funding from the Department for Transport to improve access to hydrogen refuelling stations up and down the country and increase the number of hydrogen cars on our roads from this summer.
The winning project is run by a consortium managed by Element Energy and including expertise from ITM Power, Shell, Toyota, Honda and Hyundai. It will capitalise on the reliable mileage of established fleets and see vehicles being procured by emergency services such as the Metropolitan Police, as well as Green Tomato Cars and Europcar to support the growth of refuelling infrastructure for hydrogen vehicles up and down the country.
Roads Minister, Jesse Norman said:
"Decarbonising our roads is an essential part of meeting our climate targets. The innovative new technologies involved present great opportunities for our increasingly low carbon economy.
"Hydrogen has huge potential, especially for those making longer journeys and clocking up high mileage. That is what makes this project truly exciting. Not only is it demonstrating the technology in action, but it is also developing the refuelling infrastructure needed for the future."
The project helps cement the UK's place as a world-leader in adopting hydrogen technology, using not only British expertise through ITM Power, but also securing further investment from multi-national companies such as Shell, Toyota, Honda, and Hyundai.
It also means that hydrogen cars will be able to travel further around Britain than ever before, with new refuelling stations being planned for Southwark, Isleworth, Birmingham and Derby paving the way for future expansion.
The £8.8 million grant will be matched by a further £13.1 million investment including support from the companies and other sources. The project will involve the procurement of new vehicles, construction of new stations and upgrades to existing stations.
Dr Graham Cooley, CEO, ITM Power plc said:
"This project will deliver the largest expansion of the hydrogen refuelling infrastructure ever undertaken in the UK and is a very significant step forward for the UK hydrogen industry. The project will fund ITM Power to build 4 new hydrogen refuelling stations and upgrade 5 further stations. Our partnership with Shell, Toyota, Honda, and Hyundai constitutes a highly coordinated roll out of hydrogen vehicles and refuelling infrastructure."
Paul Van der Burgh, President and Managing Director, Toyota GB said:
"This is a result of close collaboration across sectors and a significant vote of confidence from the government in the benefits of fuel cell electric technology. The programme is welcome support in our efforts to popularize FCEVs and help realize a hydrogen-based society."
Oliver Bishop, General Manager of Hydrogen at Shell, said:
"Hydrogen has the potential to become a significant part of the transport mix in a low-carbon future. Central to this success is collaboration between the government, energy companies, OEMs and technology experts to create the infrastructure to make access to new fuel options viable. At Shell, we are delighted to be part of the latest infrastructure funding effort, and to help drive forward the UK's hydrogen refuelling network."
The increased range offered by hydrogen cars for longer journeys makes them a good option for those regularly driving long distances, with refuelling times comparable to diesel or petrol vehicles, and emitting only water from the tailpipes.
Fuel cell electric vehicles are powered by electricity generated on-board the vehicle from hydrogen fuel passing through a fuel cell stack. This means they do not need recharging and instead, the driver refills the tank at a hydrogen refuelling station, in the same way they might do with a petrol or diesel car.
Share: