Financial Services Bill introduced today
A new Bill designed to ensure the UK's world-leading financial services sector continues to thrive and grasp new opportunities on the global stage will be introduced to Parliament today (21 October 2020)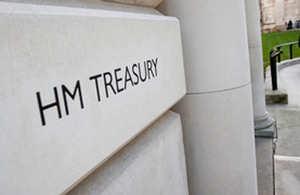 • Financial Services Bill to maintain UK's world-leading regulatory standards and openness to international markets introduced today
• this Bill is the first step in shaping a regulatory framework for the UK's financial services sector outside of the EU
• it will enhance the competitiveness of the sector and ensure it continues to deliver for UK consumers and businesses
A new Bill designed to ensure the UK's world-leading financial services sector continues to thrive and grasp new opportunities on the global stage will be introduced to Parliament today (21 October 2020).
The Financial Services Bill is an important first step in taking responsibility for our financial services regulation, ensuring that the UK maintains the highest regulatory standards and remains an open and dynamic global financial centre now that we have left the EU.
John Glen, Economic Secretary to the Treasury, said:
"Now the UK has left the EU, we must ensure we have a regulatory regime that works for the UK and allows us to seize new opportunities in the global economy.
"Following the work we've done to prepare for EU exit and ensure a smooth transition to a UK rule book, this Bill is the next step in delivering a regulatory framework that boosts the competitiveness of our world-leading financial services sector and ensures that UK consumers are properly protected.
"It's part of an ambitious programme to enhance the UK's first-class standards and our attractiveness as a location for business, both of which will be crucial to help our economy bounce back."
Measures in the Bill will:
Enhance the UK's world-leading prudential standards and promote financial stability by enabling the implementation of the remaining Basel III standards and a new prudential regime for investment firms, and giving the Financial Conduct Authority the powers it needs to oversee an orderly transition away from the LIBOR benchmark.
Promote openness between the UK and international markets by simplifying the process to market overseas investment funds in the UK and delivering a Ministerial commitment to provide long-term access between the UK and Gibraltar for financial services firms.
Maintain an effective financial services regulatory framework and sound capital markets with a number of smaller measures, including measures to improve the functioning of the Packaged Retail and Insurance-based Investment Products Regulation and increase penalties for market abuse.
Following its introduction to Parliament, the Bill will be subject to the usual processes of legislative scrutiny in both the House of Commons and the House of Lords. Once both Houses of Parliament have agreed, it will move forwards to receive Royal Assent at which point the Bill will become law. The timing of the Bill's progression through Parliament is subject to parliamentary scheduling.

From:
HM Treasury
Share: