Melton Mowbray bypass will help support thousands of jobs and homes
New bypass will help cut congestion in Melton Mowbray town centre by taking traffic onto the alternative road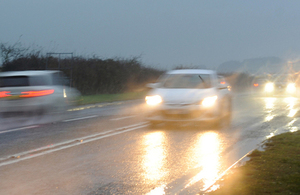 Residents and businesses in Melton Mowbray are set to benefit from a new £63.5 million bypass which will take traffic out of the town.
Today (May 17 2018), Transport Secretary Chris Grayling announced £49.5 million of government funding to drive the scheme forward.
The town, which suffers from congestion, is set to receive a single carriageway road, almost 7 kilometre in length, around the east of the town
The bypass will help cut congestion in the town centre by taking traffic onto the alternative road. It will also support thousands more jobs and homes in the area.
Transport Secretary Chris Grayling said:
"This government is investing record amounts in our roads, spending £6 billion to improve journeys in our towns and cities and boost local economies.
"Heavy congestion has become a real issue for Melton Mowbray and a new bypass around the town centre will really make a difference by easing traffic and improving every day journeys.
"A bypass around the east of the town will also pave the way for 6,000 jobs and 4,500 homes in and around Melton Mowbray by 2036."
The bypass will connect the A606 Nottingham Road to the A606 Burton Road, with roundabouts developed at Scalford Road, Melton Spinney Road, A607 Thorpe Road and B676 Saxby Road. Walking and cycling facilities will be provided for the whole length of the new route.
The bypass will also support local growth north of Melton Mowbray, where much needed housing is to be developed.
The scheme will cost £63.5 million in total, of which Leicestershire County Council is providing £14 million.
Byron Rhodes, Leicestershire County Council's deputy leader and long-time campaigner for the bypass, said:
"It's great news that the government is backing our plans to develop a relief road. We've already committed £4 million in making this scheme shovel-ready with more funding to follow and I think this has been vital in securing the money.
"It's an exciting scheme which is part of a strategy which includes further measures to address congestion issues, air pollution, public transport improvements, and provide healthy walking and cycling options. We will shortly be confirming details of our preferred route."
The scheme will open up a number of potential housing and business sites, connecting people with jobs and amenities. Around 4,500 homes and 6,000 jobs could be expected by 2036.
Plans include bridges over the railway line and River Eye, as well as 6 roundabouts to keep traffic flowing.
The funding comes from the government's Large Local Majors Fund, providing the infrastructure that is vital for economic growth.
Share: