Projects set to help women back to work
Minister for Women & Equalities, Penny Mordaunt, announced today that seven organisations in England have been awarded funding to support innovative projects which aim to help women back into work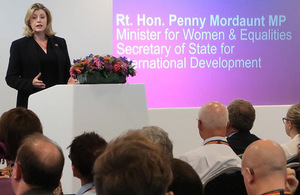 • Seven projects land funding to help support women and those with caring responsibilities back into employment
• Initiatives to help veterans, victims of domestic abuse and homeless women
• Funding part of the government's £5m commitment to help people with care responsibilities back into work
The funding is the latest to be awarded as part of the government's drive to support disadvantaged women in the UK, and comes ahead of the launch of a new strategy which will set out how women of all ages should be supported to achieve their potential.
Working with more than 100 employers, the seven projects have been allocated nearly £500,000, which will go towards providing refresher courses, training and qualifications to women from all backgrounds who have taken time away from work for caring responsibilities.
Minister for Women & Equalities, Penny Mordaunt, said:
"It is completely unacceptable that the careers of talented women are held back because they take time out of their jobs to care for a loved one.
"Businesses cannot afford to overlook the potential of these talented women. That's why we are investing in returners to work – giving them the opportunity to refresh and grow their skills. By acting on this issue we can grow the economy and achieve true equality in our workplaces."
The successful bids include a project that will give women the tools to progress in the security industry, another that will seek to help victims of domestic abuse and an initiative to help female partners of the Armed Forces and veterans return to work.
Pioneering research by Eige found that reducing gender gaps in labour market participation, STEM qualifications and wages, could increase the size of the UK economy by around £55 billion by 2030.
This funding is part of the government's £5 million commitment to boost projects supporting women with caring responsibilities across the country back into the job market.
Share: