On third anniversary of Tim Peake's space mission; report reveals over 2 million inspired by education campaign
A new report has found more than 2 million children in the UK engaged with education and outreach programmes linked to Tim Peake's Principia Mission to space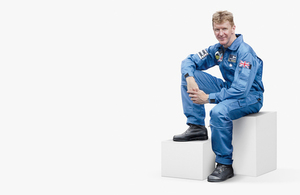 Tim Peake
The UK Space Agency ran a £3 million education campaign alongside the mission to the International Space Station, which blasted off three years ago tomorrow (15 December), to inspire a greater interest and understanding of science, technology, engineering and mathematics (STEM) as well as space.
The campaign - the largest and most successful ever organised for a European Space Agency (ESA) astronaut – encompassed 34 separate projects and covered a spectrum of ages and subjects, including mass participation experiments in schools using seeds that had been in space.
British ESA astronaut Tim Peake said:
"Principia was a unique opportunity to engage a young audience in science and human spaceflight. This was only possible thanks to the efforts of the UK Space Agency, ESA and hundreds of volunteers who embraced the potential of this mission through a wide range of educational projects."
Tim was the second British astronaut, after Helen Sharman, and the first to fly with the European Space Agency. He spent six months in space, carrying out scientific experiments on the International Space Station.
The report, produced by the UK Space Agency, found one in three UK schools took part in at least one Principia activity. Every region of the UK ran school activities with all projects accessible to boys and girls. The majority of the 34 projects focused on primary school children although some went right through to university.
Download the full Principia campaign report, or summary education report.
The report also found:
• Over 900,000 people have taken part in Destination Space workshops and other activities, created by the Association for Science and Discovery Centres and run at centres across the UK
• 600,000 pupils from 8,600 schools took part in the Rocket Science seed-growing experiment led by the Royal Horticultural Societ
• 400,000 students took part in the Cosmic Classroom with a live link to Tim on the International Space Station in partnership with Tes Global
Tim returned to Earth on 18 June 2016 yet the legacy of the Principia Mission and its education programme continues. All the Principia education resources are available for teachers, students and the public online and they continue to be used.
The UK Space Agency is now making a further £65,000 available for education and outreach programmes under its Space for All scheme.
Grants of up to £10,000 will be awarded to schemes that use space as an inspiring context for learning and may include:
• delivery of curriculum enrichment activities
• delivery of activities to promote careers in the space sector
• delivery of activities to engage the public
• pilot studies to support any of the above
Apply for a Space for All grant
This comes on top of £325,000 the Agency awarded to the UK Association for Science and Discovery Centres (ASDC) last week to create new resources based on real scientific and engineering challenges, including those facing the operation of UK spaceports, rockets and spaceplanes.
Together, up to 14 UK science centres and museums will deliver activities to 200,000 children and adults until March 2021, building on the success of ASDC's Destination Space education programme from the Principia Mission.

From:
UK Space Agency
Share: