Search for new Independent Chief Inspector of Borders and Immigration begins
The recruitment process for the new Independent Chief Inspector of Borders and Immigration has opened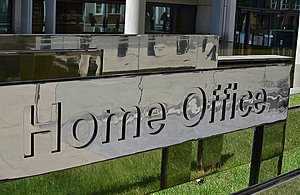 The recruitment process for a new Independent Chief Inspector of Borders and Immigration (ICIBI) has been launched.
This is an important role providing independent scrutiny of the Home Office's border and immigration functions, helping to drive improvements so it works as effectively as possible.
Home Secretary Priti Patel said:
"I would like to thank David Bolt for his time in office and all the work he has done to monitor and drive efficiency in the immigration systems.
"I am certain that the next appointment will continue to constructively challenge and scrutinise the department's immigration functions so that they are as effective and efficient as they can be."
The appointment of the Independent Chief Inspector will be through a full and open competition, and will be run in accordance with the Governance Code on Public Appointments.
This will involve an advisory assessment panel, with an independent chair, that will review the applications and interview shortlisted candidates. The appointment will also be subject to pre-appointment scrutiny.
Applications for this post will be open until 11:00pm on 4 June. You can find out how to apply on the HM Government Public Appointments website
The government has adapted the recruitment process around the UK's coronavirus restrictions while ensuring a fair and open competition. This includes planning for remote interviews.
David Bolt has been the Independent Chief Inspector since May 2015 and will remain in post until October 2020.
Find out more about the Independent Chief Inspector of Borders and Immigration.
Share: